2023
Eczacibasi confirm their supremacy, Fenerbahce with important win
Author:
Martyna Szydłowska
On Thursday evening, Leg 5 of the pool phase in the Champions League Volley 2023 - Women is concluded with two exciting encounters. Eczacibasi Dynavit Istanbul confirmed their supremacy in Pool E, beating C.S.M. Targoviste. With perfect reocrd of five wins, the team under the guidance of Ferhat Akbas secured a pool win and a spot in the quarterfinals. In the second match Tenerife La Laguna tried to challenge Fenerbahce Opet Istanbul, but the Turkish side prevailed, earning an important straight set win in the most intriguing Pool D.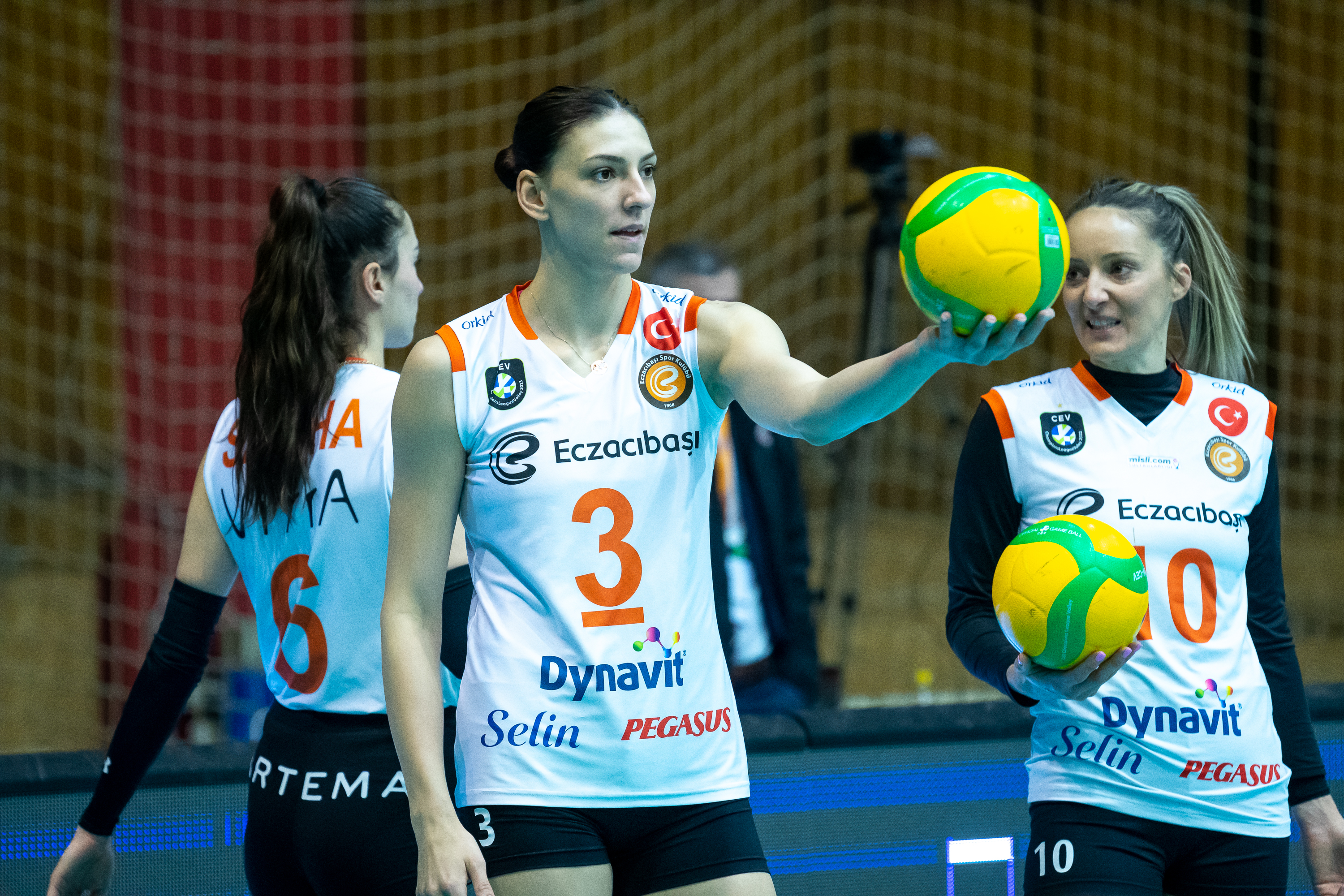 C.S.M. Targoviste vs Eczacibasi Dynavit Istanbul 0-3 (22-25, 14-25, 23-25)
In Pool E, C.S.M. Targoviste took on undefeated leader Eczacibasi Dynavit Istanbul. The team around coach Ferhat Akbas had a chance to secure a spot in #CLVolleyW quarterfinals. All they needed were three points to their name in the standings. However, at Sports Hall Targoviste, the home team played bold, not allowing Eczacibasi to run away with the score. Targoviste impressed with their efforts in block (5 stuffs in the opener), including a great performance from Mira Todorova - 3 winning blocks. But their own mistakes (10-5) made a difference in favour of Eczacibasi, who from 18-18 managed to build a slight advantage that let them win the set. Tijana Boskovic, with 60% of success in attack, was a top scorer, having 7 points to her name.
The second set from the beginning was dominated by Eczacibasi, who took an early 8-4 lead. With 58% of success in attack and solid receptions (54%) they kept improving the gap to outclass their rivals, closing the set at 25-14.
Eczacibasi was caught napping in the third set. Targoviste, who had nothing to lose, took a 10-6 lead. It was a cold shower for the Turkish team. They immediately made up the gap at 11-11 and the game was continued on a point-by-point basis until 18-18, when Eczacibasi scored three consecutive points and prevailed in the decisive part.
Tijana Boskovic was a top scorer and MVP with 18 points to her name, including 15 kills, 2 blocks, 1 ace and 60% in attack. On the Targoviste's side Mira Todorova and Ana Bielica scored 8 points apiece.
Tenerife La Laguna vs Fenerbahce Opet Istanbul 0-3 (18-25, 20-25, 24-26)
The situation in Pool D is the most intriguing, therefore the game against Tenerife La Laguna was extremely important for Fenerbahce Opet Istanbul, who were ranked 3rd before their fifth game.
Fenerbahce was a clear favourite in the game, but the #CLVolleyW rookies didn't make it easy for the Turkish team, keeping 42% in attack. The team around coach Zoran Terzić was in the lead during the entire set. Anna Lazareva (70% success attack) and Ana Cristina Souza (67% positive receptions and 3 aces), who tallied 8 points apiece, made the difference.
The beginning of the second set was more balanced, but the hosts didn't manage to avoid their own mistakes and paid a high price for it. Both sides were active in blocks - Fenerbahce scored 4 points in this skill, Tenerife 3. Belly Bhella (5 points) was definitely a player who was visible on the court along with Julie Lengweiler and Laura Rodwald (4 points), but their team efforts were not enough against the team like Fenerbahce, who prevailed.
The third set was even more intense. La Laguna started it with a slight advantage and although Fenerbahce not only caught up the score, but also jumped to the lead in the decisive part, the hosts tied at 22-22. It put the pressure on Fenerbahce, who had to deny a set point to La Laguna and quickly after it they got their first chance to close the game. And they did after successful Ana Cristina's spike. 
Anna Lazareva topped the scorers' chart with 20 points and 51% success in attack. Her teammate Ana Cristina De Souza contributed with 17 points, including 12 kills, 3 aces and 2 blocks and received a well-deserved MVP award. Laura Rodwald with 14, was the best scorer in La Laguna.
It was the third win for Fenerbahce, who with 10 points are currently ranked 2nd. However, everything is still possible in Pool D. Current leader, Allianz MTV Sttutgart have 4 wins and 10 points, also 3rd ŁKS Commercecon Łódź - same as Fenerbahce - tallied 3 wins and 10 points. So Leg 6 will decide who will win the pool, once it's already clear that all three teams will stay in quest. There is no other team ranked 3rd having a chance to collect 3 wins and 10 points.