2023
Fenerbahce and Eczacibasi in #CLVolleyW semis, Conegliano eliminated!
Author:
Martyna Szydłowska
The last two spots in the CEV Champions League Volley 2023 - Women were at stake on Thursday evening. Eczacibasi Dynavit Istanbul secured a ticket to the last 4 after a hard-fought win over Developres Rzeszów. The team from Poland impressed with their game, but it was not enough against the team powered by Serbian duo Maja Ognjenovic and Tijana Boskovic. The last quarterfinal was a crème de la crème. Unbelievable serving performance from Arina Fedorovtseva was a driving force for Fenerbahce, who won two first sets and eliminated a pre-favourite A.Carraro Imoco Conegliano.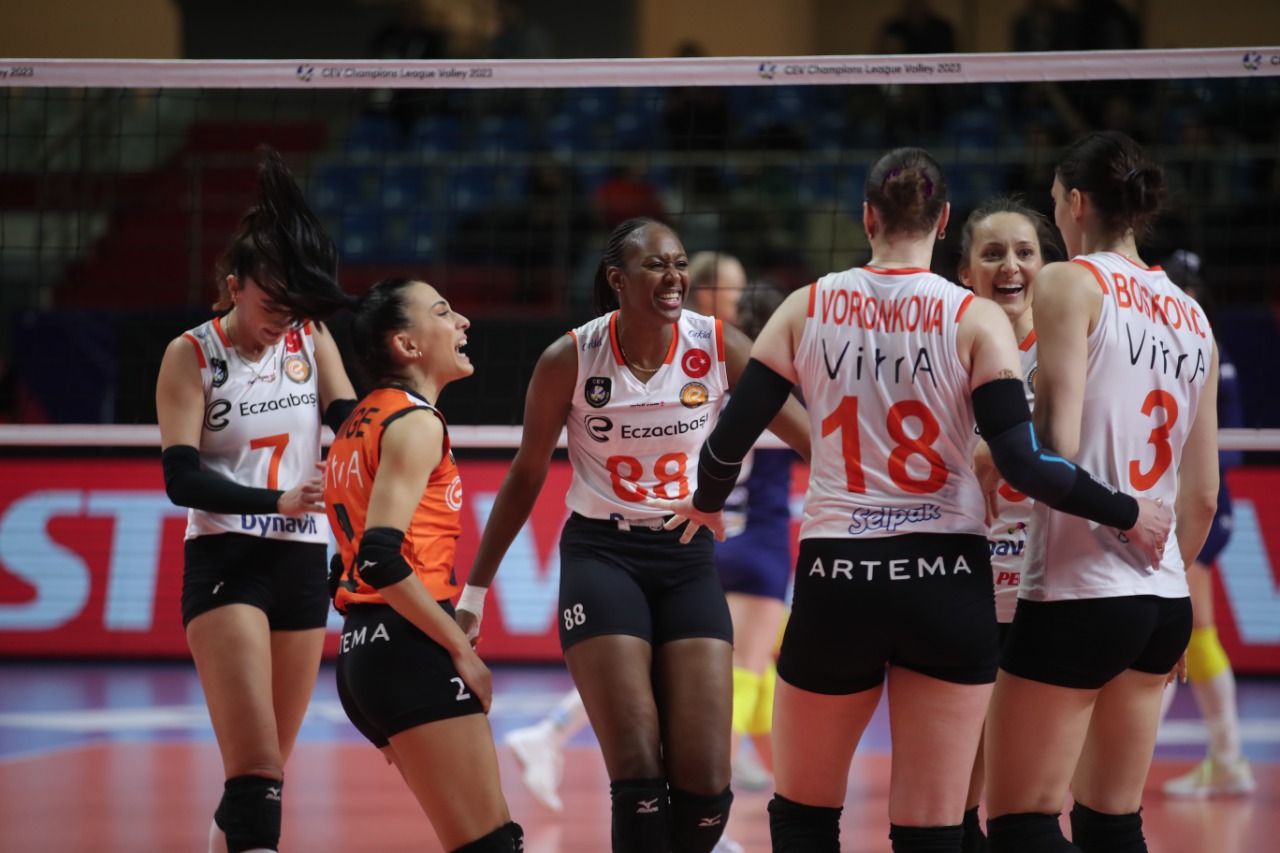 Eczacibasi Dynavit Istanbul - Developres Rzeszów 3-2 (20-25, 25-19, 24-26, 25-21, 15-8)

Eczacibasi had to win two sets only to book a spot in the semifinals, as they won the first duel 3-1. Many thought that it would be an easy job for the hosts, but Developres set the bar very high. The game started perfectly for the visiting team, who opened it with 3-0 lead and improved it further to 7-1, mainly thanks to Ann Kalandadze's efforts. But it was Gabriela Orvosova who shone bright on the court. Developres' opposite was unstoppable (8 points in 1st set), helping her team to maintain the gap 17-8. The team around Stephan Antiga played smart, pushing Eczacibasi to defense. Entering the decisive part of the set the hosts shortened the distance to two points (19-17), but only for a while, as the team from Rzeszów closed the opener 25-20.

Eczacibasi returned to the court determined to banish memories from the first set. The hosts opened it with a 7-4 lead. Developres didn't give up and tied at 10-10. However, Eczacibasi showed their experience and team spirit, quickly jumping to 19-14. The club from Istanbul played almost flawlessly (only 3 errors). Led by Serbian duo Maja Ognjenovic and Tijana Boskovic (7 points), they closed the set 25-19.

The third set was a do-or-die for Developres. It looked that Eczacibasi would win this part easily as they led 10-6 and 17-14, playing great in block (7 stuffs) and having another spectacular performance from Tijana Boskovic (9 points). But then, coach Antiga decided to let in on the court Weronika Szlagowska (4 points). She brought a fresh energy and with her on service line, Developres shortened the distance to one point at 18-17. And after a hard battle they tied at 21-21! Going point-by-point, the visiting team prevailed 26-24 after Anna Obiała's attack. Orvosova was the best scorer of Rzeszów in this set - 7 points.

A fierce battle continued. Players from both sides exchanged powerful hits over the net and neither of them were able to get any advantage up until 13-13. Then, Eczacibasi showed the strength of their block and scored five consecutive points (18-13). Rzeszów tried to fight back, but with a very solid performance from Natalia Voronkova (6 points), Eczacibasi closed the set 25-21 and earned a ticket to semifinals.

Both coaches decided to modify a bit their line-ups for a tie-break, which was eventually easily won by Eczacibasi, who totally controlled the situation on the court. The match was closed by Tijana Boskovic, who was named MVP of this match. The Serbian opposite tallied 30 points (25 attacks, 4 blocks, 1 ace) and recorded 48% in attack.
In the semifinals Eczacibasi will face Igor Gorgonzola Novara.
A.Carraro Imoco Conegliano - Fenerbahce Opet Istanbul 3-2 (23-25, 15-25, 25-23, 25-20, 15-13)
A. Carraro Imoco Conegliano, the SuperFinalists of the last three editions of the Champions League and the reigning club world champions had back against the wall after losing in the first encounter 0-3. It was a big advantage for Fenerbahce, who opened perfectly also the re-match in Palaverde Villorba Treviso. The team around Zoran Terzić took an 8-1 lead with Arina Fedorovtseva (8 points in the first set) on service line, including her 4 consecutive aces! Step by step Conegliano was making up the gap scoring six points in a row from 14-8 to 14-12, thanks to Haak (7 points) and Sarah Fahr (4 points). The game was extremely intense. Fenerbahce was staying ahead (20-16), but Conegliano kept pushing and shortened the distance to one point at 23-22, but Fenerbahce won the set 25-23 after Ana Cristina's attack (7 points in the opener).
Sparked by the local fans, Conegliano opened the second set with a 3-0 lead. But at 5-3 Fedorovtseva went to the service line and like in the opener it was an unbelievable serving run. Even if she didn't score so many aces (only 3 in this run), her team won ten points in a row (13-5)! They kept improving the score reaching a nine-point lead at 19-10, having three power guns Fedorovtseva (5 points), Melissa Vargas (5) and Ana Cristina (6). Conegliano couldn't find an answer and Fenerbahce sealed the deal, closing the set 25-15 and booking the spot in semi finals.
Zoran Terzić decided to apply some changes to his roster, but his team still showed a high-quality game. With solid performances from Ana Cristina and Anna Lazerva, Fenerbahce led 19-16. But after a time-out called by Daniele Santarelli, Imoco Conegliano levelled up the score and seized the opportunity to win the set.
Conegliano was motivated to at least win the game. The set was balanced until 17-17, then Plummer gave a sign to run away with the score. Robinson Cook recorded 100% success in attack, finishing 5 out of 5, including the set point.
Both teams were motivated to win a tie-break. Even though Fenerbahce led 6-3, they struggled a lot in receptions (only 9%), thus Conegliano with great team efforts made it up and closed the game in their favour.

Arina Fedorovtseva was named the MVP after her spectacular performance in the first two sets. She had 13 points to her name, including 8 aces. Ana Cristina topped the scorers chart with 29 points, once Isabelle Haak with 24 points was a top scorer of Conegliano.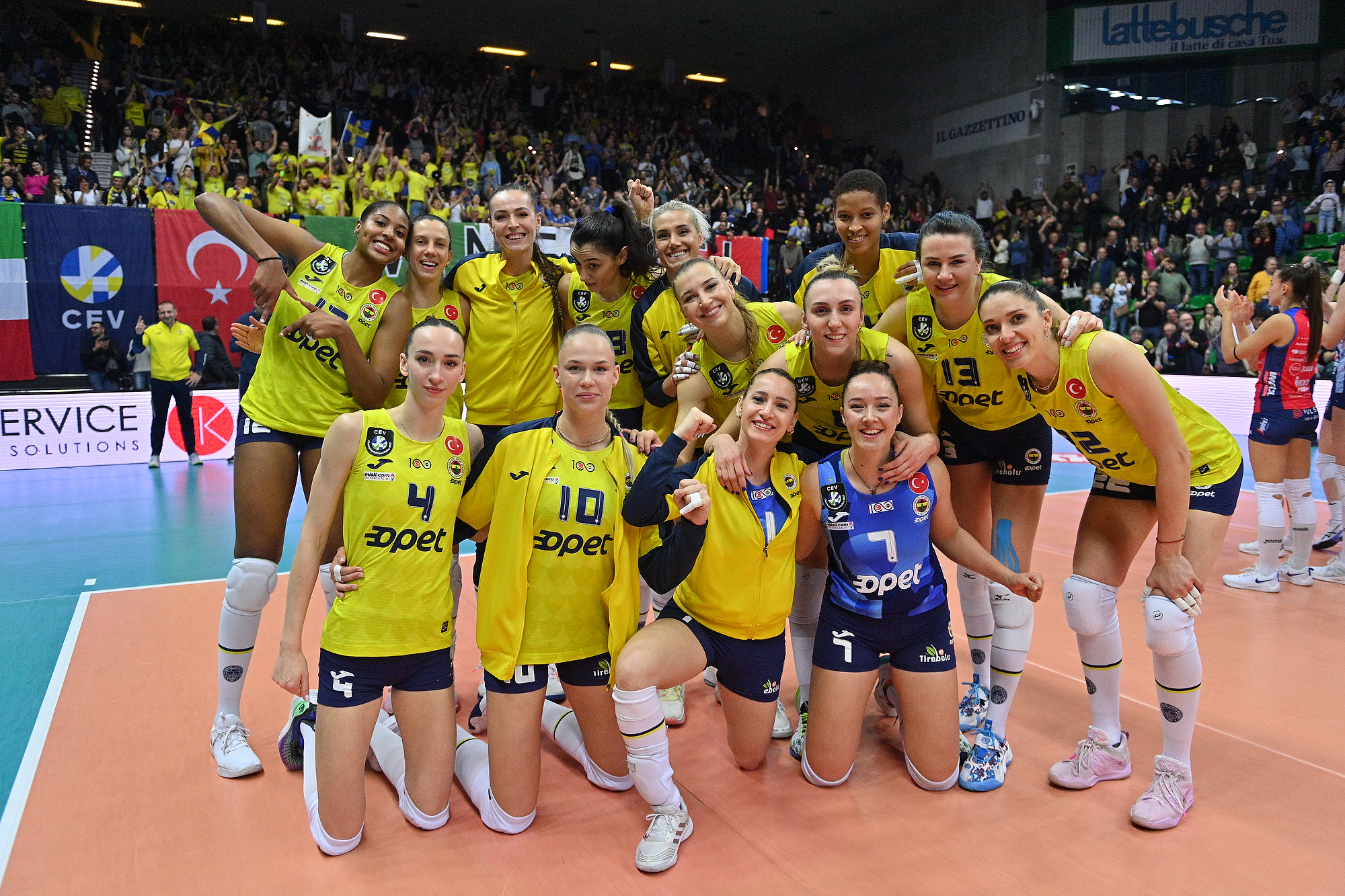 In the semifinal Fenerbahce will take on their domestic rivals and the regining champions VakifBank Istanbul.
"I'm super happy with this win and I'm proud of my team for these two games against a great opponent. Let's enjoy this important success, but that's not all, now the focus of the team is on the semi-final which will be another top-level challenge"
Arina Fedorovtseva
MVP and player of Fenerbahce Istanbul
"We were hoping for a different game2, we tried, but from the beginning they played very well and were aggressive. Right now I think three hitter like Fener's have no one in the World, they are in an incredible state of grace and it is difficult to play at their level. We are so sorry, but we will try again."
Daniele Santarelli
head coach of Imoco Conegliano