2023
VfB Friedrichshafen take a big step towards #CLVolleyM quarterfinals
Author:
Martyna Szydłowska
The quest for tickets to the CEV Champions League Volley 2023 - Men continued on Wednesday night. Tours VB took on VfB Friedrichshafen in the home play-off. It was not an easy game for the home side, as only a few minutes before the first whistle their captain and setter Zeljko Coric suffered an injury. Friedrichshafen powered by Ziga Stern and Michał Superlak earned an important straight-set win and is one step closer to the #CLVolleyM quarterfinals.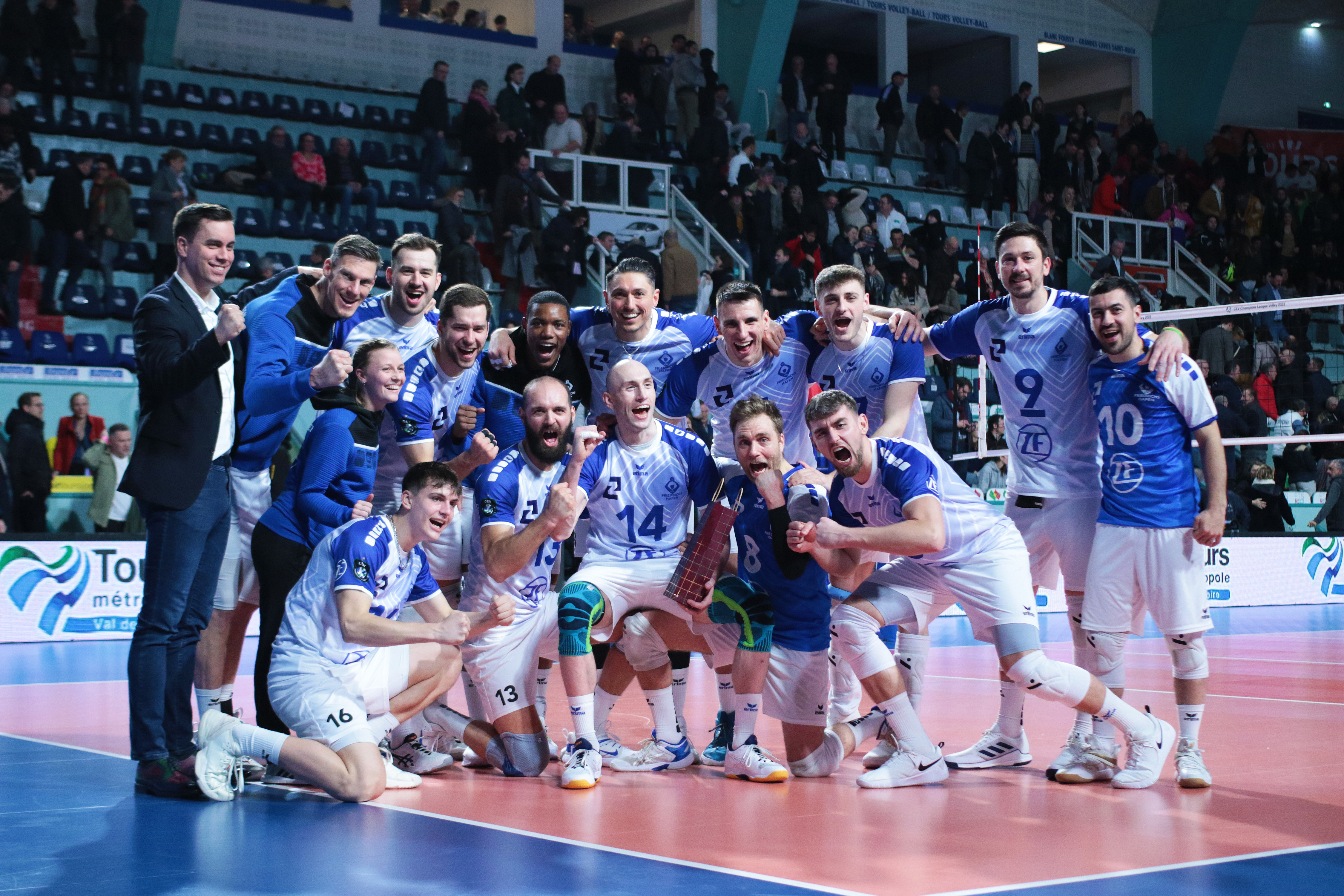 Tours VB vs VfB Friedrichshafen 0-3 (23-25, 21-25, 21-25)
During the warm-up, the setter and captain of Tours VB, Zeljko Coric was injured, thus it was Gary Chauvin on playmaking duty. The opening set fired up fans gathered at Salle Robert Grenon Tours. The local favourites Tours VB and Vfb Friedrichshafen fought hard for every point, delivering a thrilling Volleyball show, but in decisive part a successful attack from Ziga Stern closed the set in favour of the visiting team after 31 minutes of play. Stern was a leader of Friedrichshafen (7 points and 67% in attack) with a solid support with Michał Superlak (5 points). Aboubacar Drame Neto contributed with spectacular 10 points for Tours

The team around coach Mark Lebedew kept the momentum, taking an early 8-3 lead. Even if Tours fought back and reduced the distance powered by Dmytro Teryomenko, it was not enough against the guests, who won this part 25-21.

Also the third part was dominated by Friedrichshafen led by their superduo Stern & Superlak. However, when the team from Germany led 21-18, the hosts managed to score three in a row and tie. It was a big merit of Aboubacar Drame Neto, who served two aces. It gave hope to the home crowd, but only for a brief moment as Vojin Cacic made a difference going on the service line and Friedrichshafen closed the game 25-21.

Ziga Stern topped the scorers chart with 17 points, including 15 kills (65% success in attack), 1 ace and 1 block. Michał Superlak tallied 11 points, once Fans' MVP of pool phase Aboubacar Drame Neto contributed with 14 points on Tours' side. The decisive re-match will be played on February 15.
"We expected very tough match. The result is incredible. What I remember is not my personal performance but the performance of the team. Everyone played very well tonight. It was bad luck for Tours who lost their setter just before the game."
Ziga Stern
MVP and player of VfB Friedrichshafen
"There were things missing tonight. There was a lack of automatisms. The Germans served very well. They have a great quality in serve -reception. It is complicated. Today it's the truth of one match: it's not necessarily the truth of the next..."
Gary Chauvin
player of Tours VB