2023
Igor Gorgonzola NOVARA qualifies for the #CLVolleyW Semi-Final
Author:
Nika Aurora Ključarić
After VakifBank Istanbul qualified for the Semi-Final of the #CLVolleyW, the same managed to do Igor Gorgonzola NOVARA on Wednesday evening.
With 3-1 from the first match and 3-0 in the second one against Allianz MTV STUTTGART, the team from Italy qualified for the Semi-Finals for the third time in their history.
NOVARA now has a 100 % record of winning their CEV Champions League Quarter-final matches. From five matches they had five wins, and now they can add one more to their record.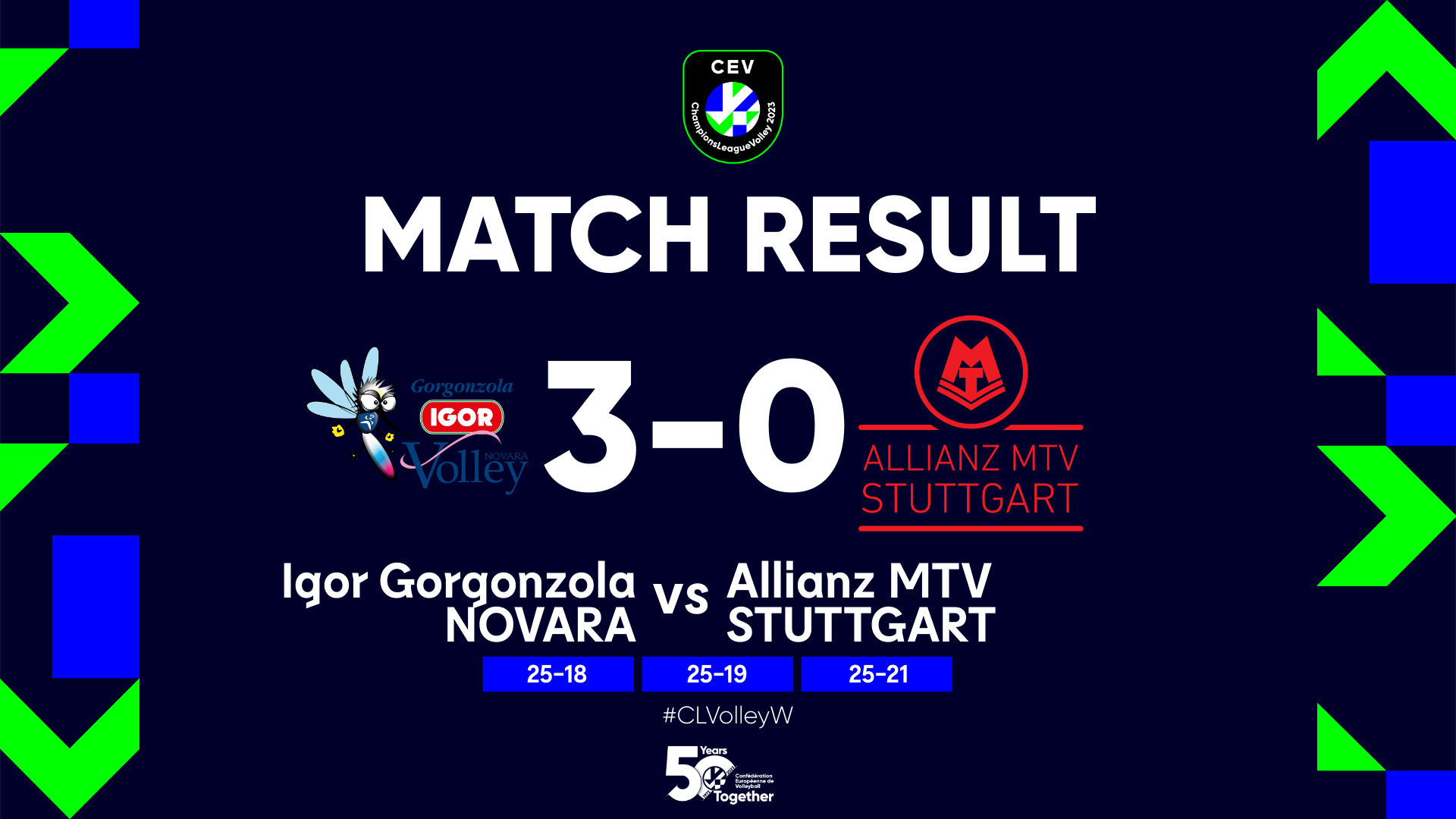 The first set started off pretty well for STUTTGART with three points of advantage but soon enough that advantage melted away and NOVARA was already taking over the set (14-10). With four killer blocks and four aces in this set itself they completely dictated the rhythm of the set and managed to lock it by 25-18.
On the winning spirit, NOVARA walked into the second set full of confidence. They knew if they win this set they are going through to the Semi-Finals. They didn't want to leave anything open and they wanted to solve everything in this set. NOVARA definitely showed all of their qualities tonight and this set was just proof of that. They didn't let the opponent get close to them. STUTTGART only managed to do so at the very end of the set, but that just wasn't enough and NOVARA closed it by 23-19.
The last set was sort of a formality since NOVARA already knew that they are advancing through and STUTTGART knew that this was their last chance of playing in the elite company. For this season, at least. This is why they wanted to create spectacular volleyball which they managed to do so in the middle of the set when STUTTGART got close to NOVARA after being behind by five points. From 15-14, it was a real rollercoaster but NOVARA managed to separate once again and take the last set by 25-21.
In front of 2650 spectators, Kenia Carcaces was awarded MVP of the game due to an outstanding attack performance.
"I am very proud and happy for achieving a spot in the semifinals for the second time since my arrival in Novara. We will be waiting to see who our opponent will be, but of course any game will be a great fight at this point. I liked the team spirit and our approach in such an important game: we pushed all together and didn't let Stuttgart play their volleyball."
Ilaria Battistoni
Player of Igor Gorgonzola Novara
"Congratulations to Novara, as they did great and totally deserved to achieve a spot in the semifinals. We have regrets regarding the home game, as it could have been better on our side, while tonight Novara was just too good and they showed all their quality."
Faruk Feray Dzankovic
Head coach of Allianz MTV Stuttgart