2023
In focus: Allianz MTV Stuttgart
Author:
Martyna Szydłowska
After returning to the German throne last season, Allianz MTV STUTTGART is back in Europe's most prestigious club competition. The finalists of the last edition of the CEV Cup aim high in their fifth appearance in the Champions League.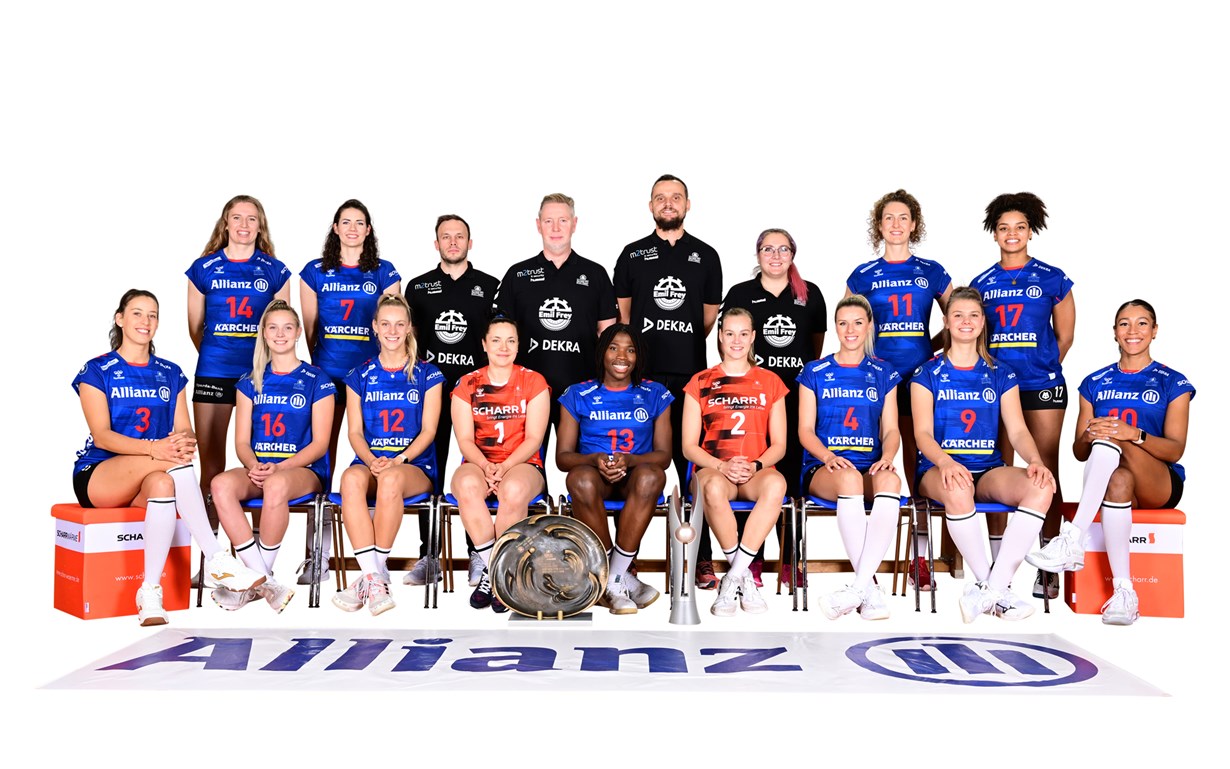 Allianz MTV Stuttgart
It didn't take long for Allianz MTV STUTTGART to become one of the leading forces in the German Bundesliga. Established in 2007 in the capital of southwest Germany's Baden-Württemberg state, the club earned their first domestic trophy in 2011 by winning the German Cup. Later they repeated this feat three more times, including the most recent triumph in March 2022. The team from STUTTGART was no less successful also in the battle for the national title. Since 2015 they were four time back-to-back reigning champions, to finally in 2019 earn their maiden national title which they regained in the 2021/2022 season. Thus, they also became the European Cups regulars.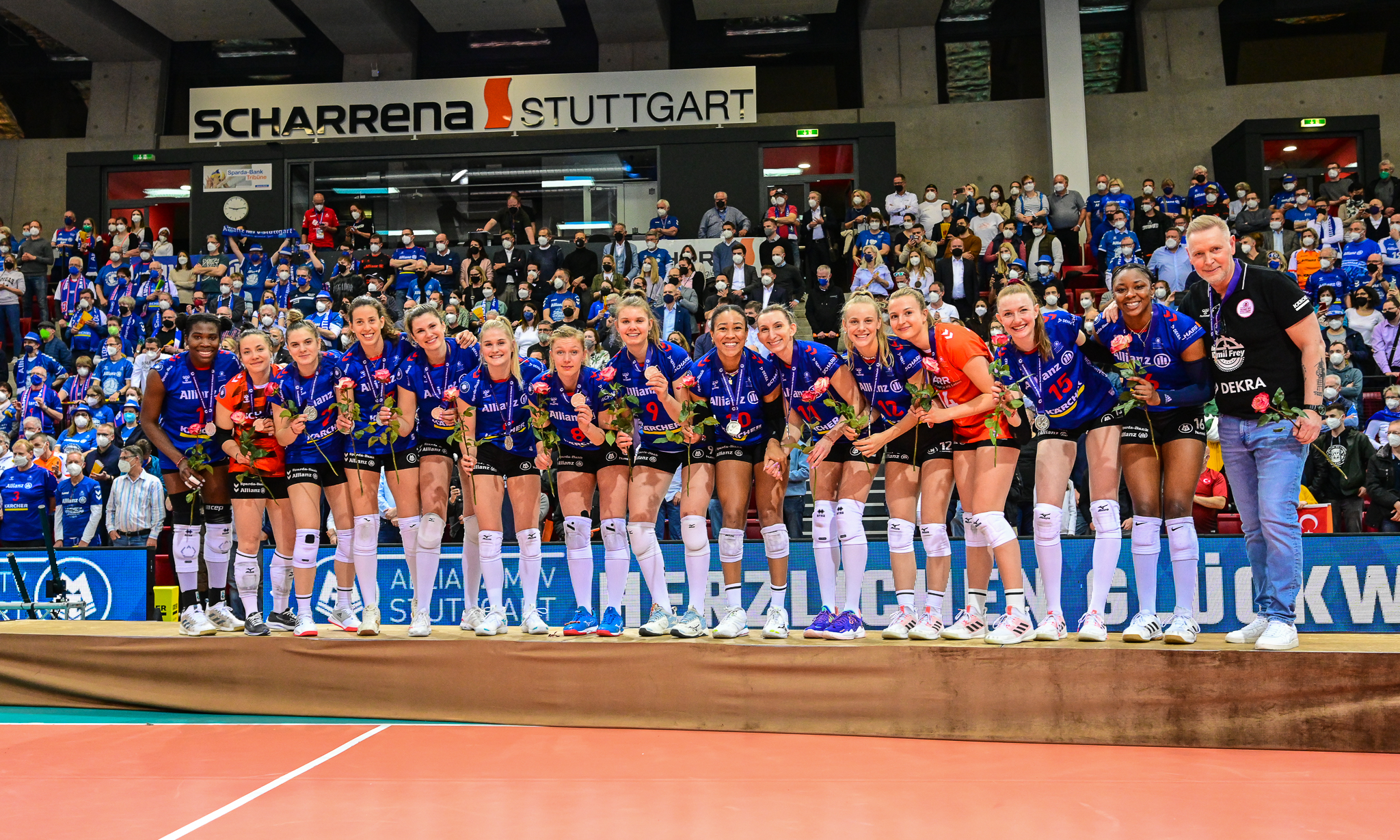 Allianz MTV Stuttgart with silver medals claimed in the CEV Cup 2022
On the European stage, Allianz MTV STUTTGART made their debut in the 2011/2012 CEV Cup, reaching the quarterfinals in their rookie performance. The German team competed in Europe's second tier four more times, achieving their best result last season. The team around coach Tore Aleksandersen stormed their way to the final where they lost to Eczacibasi, finishing with silver medals. Allianz MTV Stuttgart is also not a newcomer in the Champions League. The German champions debuted in Europe's elite club competition in the 2015/2016 season, recording three consecutive appearances 2019-2021. Up to date, their best result in the #CLVolleyW was quarterfinal in the 2020 season interrupted by pandemics. The team from STUTTGART started this season on a high note, as they remain undefeated this season in Bundesliga with a perfect record of five wins in five matches.
After one-year break, Allianz MTV STUTTGART comes back to the Champions League with a strengthened squad highlighted by three American players: their greatest star – opposite Krystal Rivers, outside hitter Simone Lee and another opposite Alexis Hart. Dutch Britt Bongaerts is in charge of playmaking this season, but she is not the only Oranje's player in the roster, having her national teammate, middle blocker Eline Timmerman by her side. The foreigners line up is completed by Finnish libero Roosa Koskelo, Spanish outside hitter Maria Segura and Swiss outside hitter Laura Kunzler. The list of domestic players is highlighted by middle blockers Marie Scholzel and Barbara Wezorke.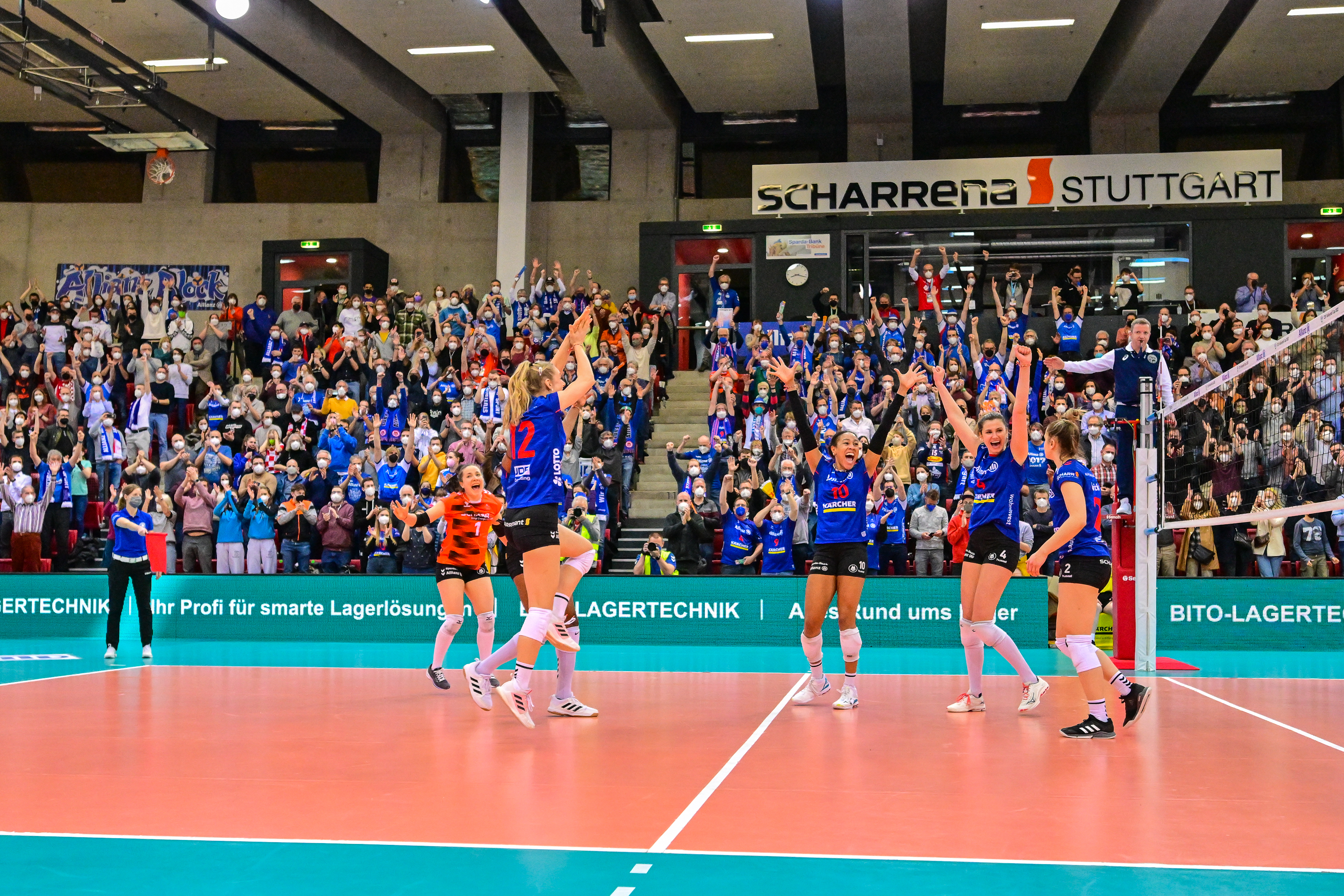 Allianz MTV Stuttgart can count on vivid support from their fans at SCHARRena Stuttgart
Allianz MTV Stuttgart will open their 5th #CLVolleyW campaign in Pool D, on December 7 at 18:00 in Łódź, facing the local favourites ŁKS Commercecon ŁÓDŹ. Then, in front of the home crowd, STUTTGART will take on Turkish powerhouse Fenerbahce Opet Istanbul on December 21. In Leg 3, the German champion will travel to Tenerife to play against #CLVolleyW rookies from Tenerife LA LAGUNA on January 12. Then, they will go to Istanbul for their re-match against Fenerbahce on January 18 to eventually play two last games at home, at SCHARRena Stuttgart against ŁKS Commercecon ŁÓDŹ (February 1) and Tenerife LA LAGUNA (February 8).