2023
In focus: Fenerbahçe Opet Istanbul
Author:
Martyna Szydłowska
One of the most decorated teams in Europe, Fenerbahçe Opet ISTANBUL is a clear pre-favourite of the #CLVolleyW Pool D. The semifinalists of the previous edition slightly strengthened their roster and aim to return to the European throne.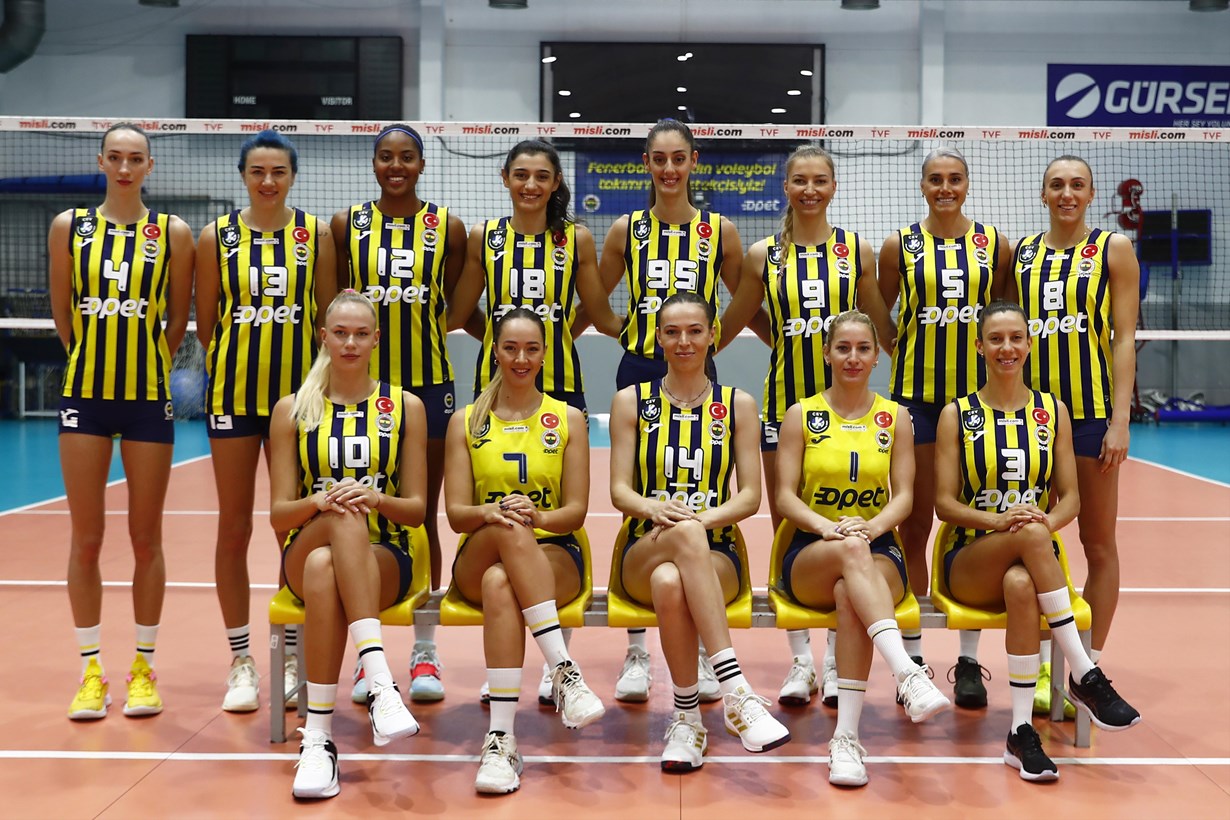 Fenerbahçe Opet Istanbul
Founded in 1928, Fenerbahçe belongs to a truly elite group of clubs boasting a full set of Volleyball titles. 'The Yellow Angeles', as the first club from Türkiye, werecrowned the world champions by winning the FIVB Volleyball Women's Club World Championships in 2010, once in the following season they claimed the Champions League's crown (2012). In Europe's top tier, Fenerbahçe reached the final alsoin 2010, losing in the gold medal match, and finished third on three occasions (2011, 2016 and 2022, when they lost in semi-final to VakifBank after the Golden set). The Turkish powerhouse also has two bronze medals in their cabinetearned at the Club World Championships in 2012 and 2021.
The list of their domestic achievements is massive, it's enough to mention that Fenerbahçe was crowned the national champion on thirteen occasions, however their most recent title came in 2016/2017 season. The team around coach Zoran Terzić enters this edition of the Champions League as the reigning vice-champion after losing the quest for national title to VakifBank.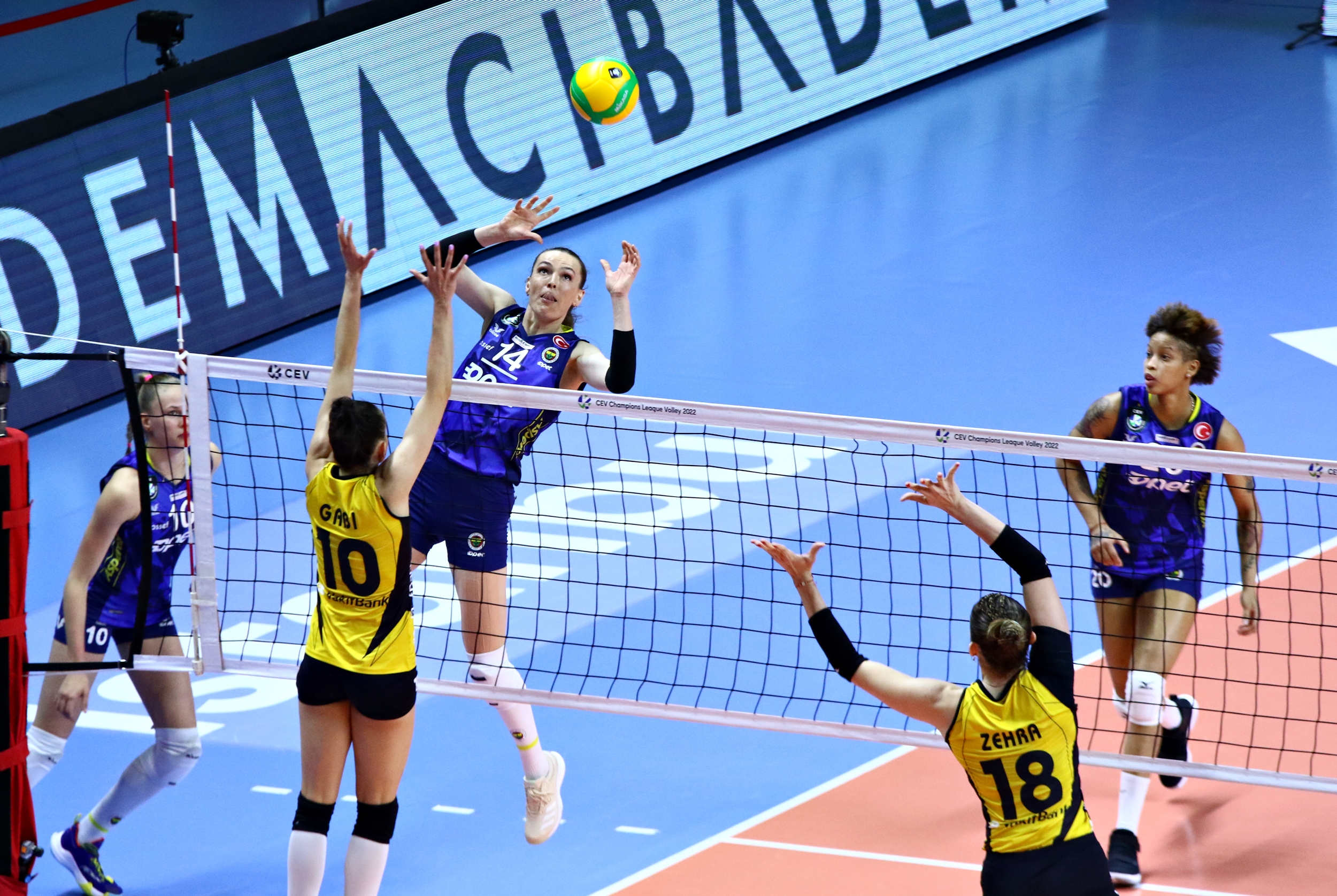 In #CLVolleyW 2022 Fenerbahçe lost in semifinal to their domestic rival VakifBank
Fenerbahçe Opet ISTANBUL is one of three clubs representing Türkiye, and Istanbul, in the CEV Champions League Volley 2023 – Women. The extremely tight rivalry between the clubs from Türkiye's capital city - so Fenerbahçe, VakifBank and Eczacibasi - already long ago was expanded to the European and global stage. The first domestic trophy in this season was grabbed by Fenerbahce, who won the Turkish SuperCup defeating the reigning #CLVolleyW champions – VakifBank Istanbul. Despite this success, Fenerbahçe is currently ranked 4th in Sultanlar Ligi with five wins and three defeats (against Eczacibasi, Vakifbank and Kuzey Boru Genclik).
The star-studded squad led by captain and icon player Eda Erdem Dündar was slightly modified ahead of the 2022/2023 season. Meryem Boz, charismatic opposite of Türkiye joined the Yellow Angels, along with Brazilian setter Macris Carneiro, who is the second Brazilian in the line up next to outside hitter Ana Cristina de Souza. Two other foreign players are Anna Lazareva and rising Volleyball star Arina Fedorovtseva. The list of domestic players is highlighted also by libero Gizem Örge and outside hitter Meliha Diken İsmailoğlu.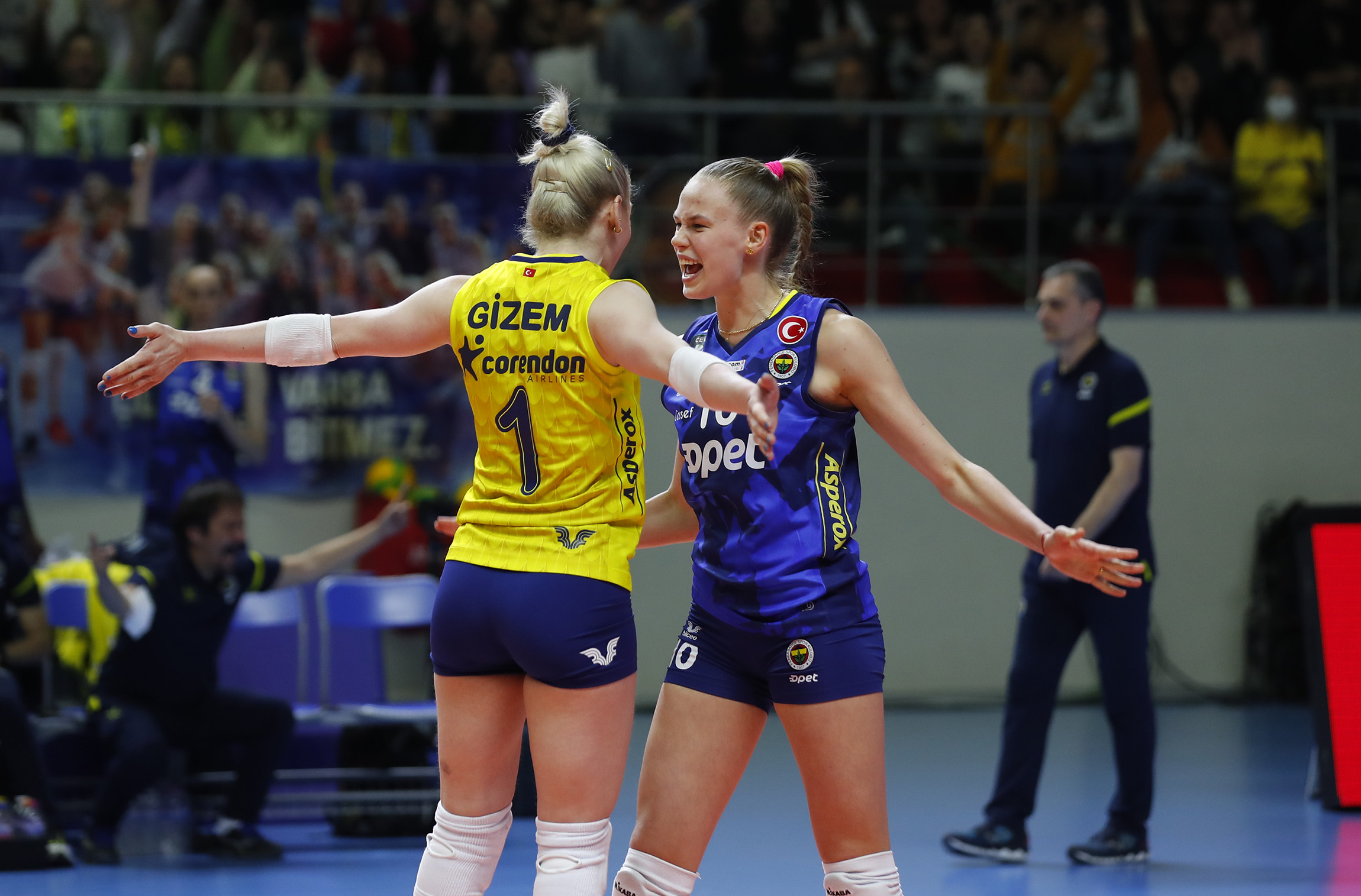 Arina Fedorovtseva (right) celebrating with Gizem Örge
In the opening match of the Round 4, Fenerbahçe Opet ISTANBUL will take on #CLVolleyW rookies from Tenerife LA LAGUNA on December 6 at 16:30 (CET) at Burhan Felek Voleybol Salonu İSTANBUL. Then, they will travel to Stuttgart to face Allianz MTV STUTTGART on December 21. Fenerbahçe's first rival in 2023 will be ŁKS Commercecon ŁÓDŹ. They will lock horns on January 11 in Poland. In front of home crowd, the Yellow Angels will host Allianz MTV STUTTGART on January 18 and ŁKS Commercecon ŁÓDŹ on February 8. The date of their Leg 4 game against LA LAGUNA is not confirmed yet.