2023
In Focus: Jelena Blagojevic
Author:
Victoria Georgieva
On December 1, right before the kick-off of the 2022/2023 CEV Champions League Volley - Women, Jelena Blagojevic will turn 34, becoming one of the most experienced players, not only in her team - Developres Rzeszów, but in the whole tournament as well. 
While other teams such as Rzeszów's opponents in the pool phase - A. Carraro Imoco Conegliano, or the reigning champions of VakifBank Istanbul, count on young superstars as Isabelle Haak and Paola Egonu, the Polish giants have a trump card in the face of the Serbian outside hitter.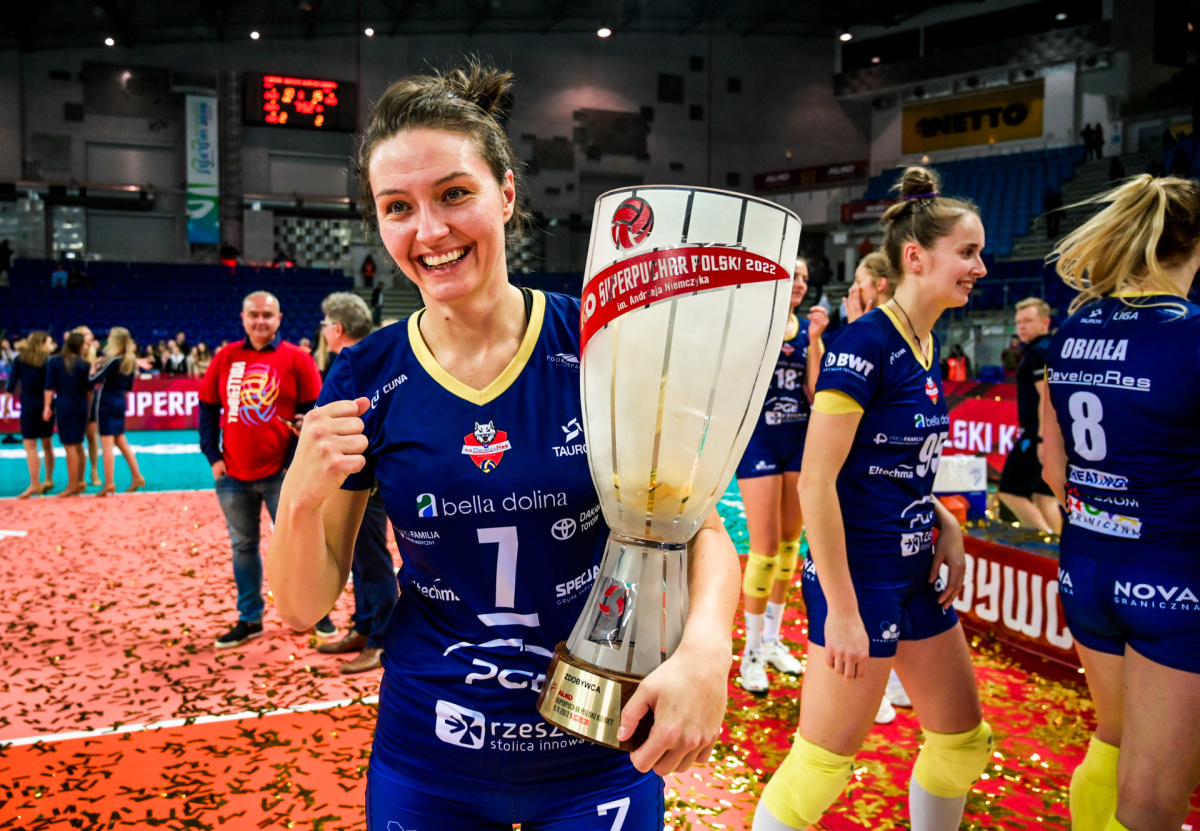 Blagojevic with the Polish Supercup
Starting her Volleyball career, Jelena used to play both Indoor and Beach Volleyball.
She took her first Volleyball steps in Brčko, and then moved to Mladost. After that, she played for Vizura and Red Star and Italy's Urbino, where she proved to be the most pleasant surprise. 
With Red Star, she has won two cups, two championships and one silver medal in the CEV Cup. It was precisely when Red Star played against Urbino in the CEV Cup, when the Italian team got to know Jelena better, and she later joined them.
Before signing with Developres, Jelena played for Foppapedretti Bergamo, the Turkish İdmanocağı SKTurkey and the Polish - Chemik Police, but it is at Rzeszów where she found the right place to stay back in 2017.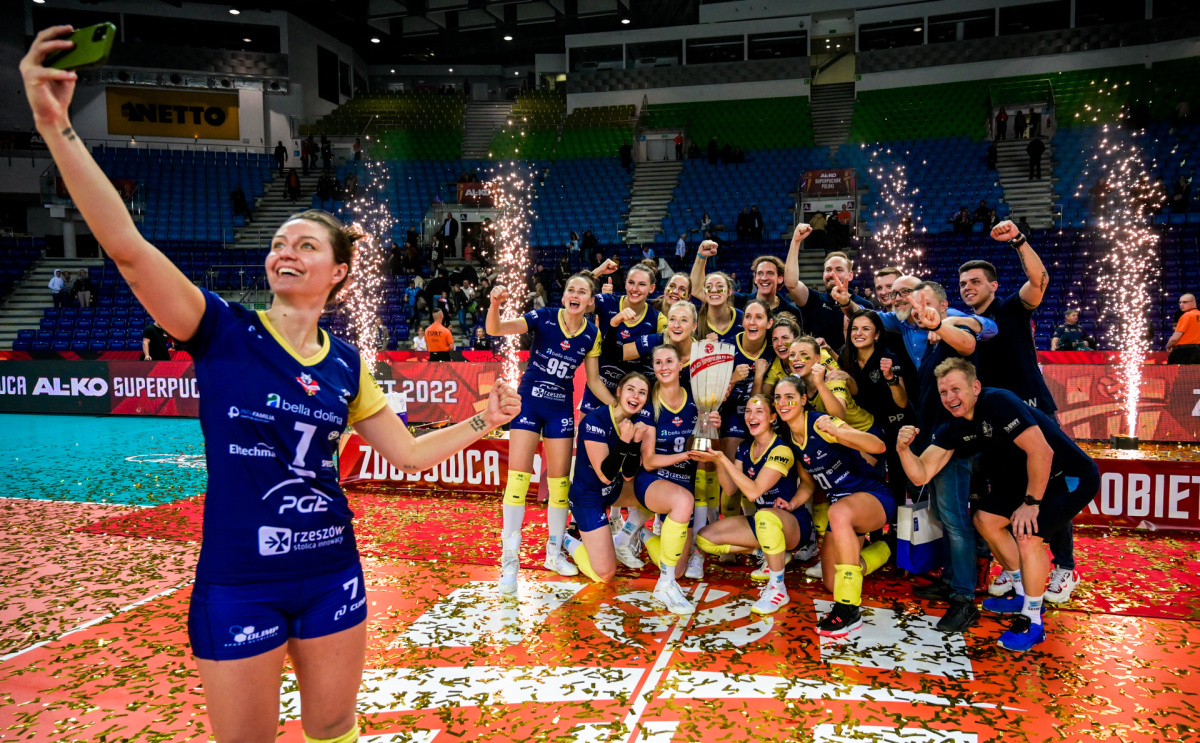 Jelena taking the team selfie after winning the Polish Supercup
For her seven seasons in the Tauron League, Jelena has played in 165 matches, scoring 1831 points (71 aces, 160 blocks). 
In the beginning of November, Blagojevic and her teammates won the Polish Supercup, outclassing in five sets their well-known opponents from Grupa Azoty Chemik Police (reigning Polish champions). Blagojevic, with 23 points, was chosen MVP of the match. 
For five years with Developres, Jelena has established herself as leader and captain of the team. Nowadays, younger players look up to her, and she is ready to share her wide Volleyball knowledge. Furthermore, this role of the experienced player suits her very well, as Jelena herself has already stated that she would like to continue her career path as a coach (and actually she already made the first and very important steps as an assistant coach of Serbia).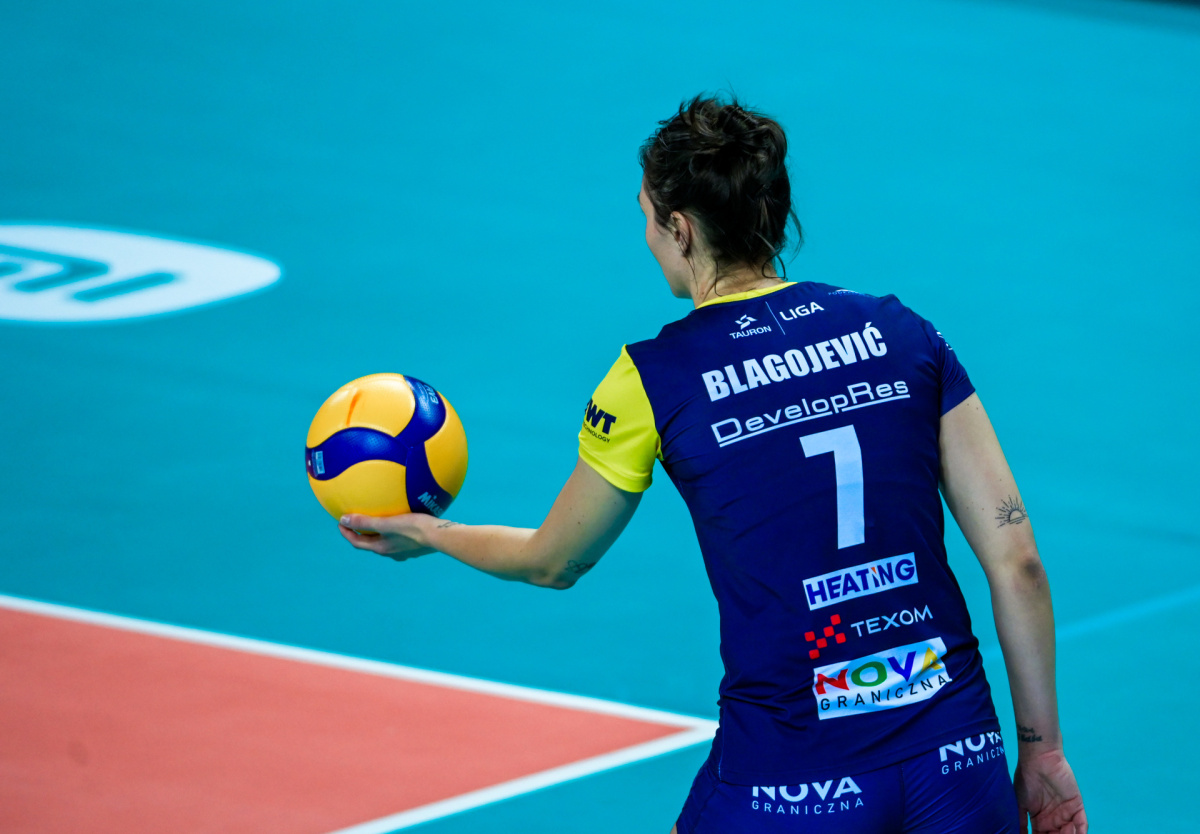 "I want to be a coach. I have a desire to teach children everything that I was taught. I love volleyball, it has given me a lot, I think I can give it back a lot. That's my wish, we'll see how it turns out in the end," Blagojevic admitted to sportal.blic.rs a while ago. 
Champions League
In the 2022 #CLVolleyW season, Jelena became her team's third-best scorer. She played in 8 matches (31 sets) and scored 96 points, an average of 3,1 per set.
In this year's edition, Jelena's performance will be of utmost importance, guiding her teammates in Round 4 against the vice-champions of A. Carraro Imoco Conegliano, Vasas Óbuda Budapest and Volley Mulhouse Alsace. 
The National Team
Blagojevic's rich experience in the national team is for sure a great asset to her performance in her club. Having joined the Serbian national team at the age of 24, Jelena is an #EuroVolleyW champion from 2017 and 2019 (and runner-up from 2021), has been one of the players who has been playing a pivotal role in all the teams she has been part of. 
Tokyo Olympics bronze medallist, in the beginning of 2022, Blagojevic did take up on the new challenge, called "assistant coach of Serbia", and can only dream big.
How will all Jelena and her Volleyball skills and knowledge contribute to Developres' performance at the 2022 #CLVolleyW? 
Watch #CLVolleyW live on EuroVolley.TV.