2023
Jastrzębski Węgiel confirm their supremacy in #SMOTW. Trentino beat Zaksa in dramatic five-setter
Author:
Martyna Szydłowska
On Wednesday night all Volleyball fans follow attentively the CEV Champions League Volley 2023 - Men, as it's the final day of the pool stage. Four teams - Jastrzębski Węgiel (Pool A) along with Cucine Lube Civitanova (Pool C), Trentino Itas (Pool D) and Sir Sicoma Monini Perugia (Pool E) - secured the first places in their respective pools and direct tickets to quarterfinal, but behind their back we could observe some do-or-die bouts. Halkbank Ankara became the fifth pool winner. Once all the teams ranked 2nd in their respective pools and the best 3rd ranked team will battle in play-offs for the remaining three quarterfinal spots (Pool standings). Super Match of the Week between Jastrzębski Węgiel and VfB Friedrichshafen highlighted the night.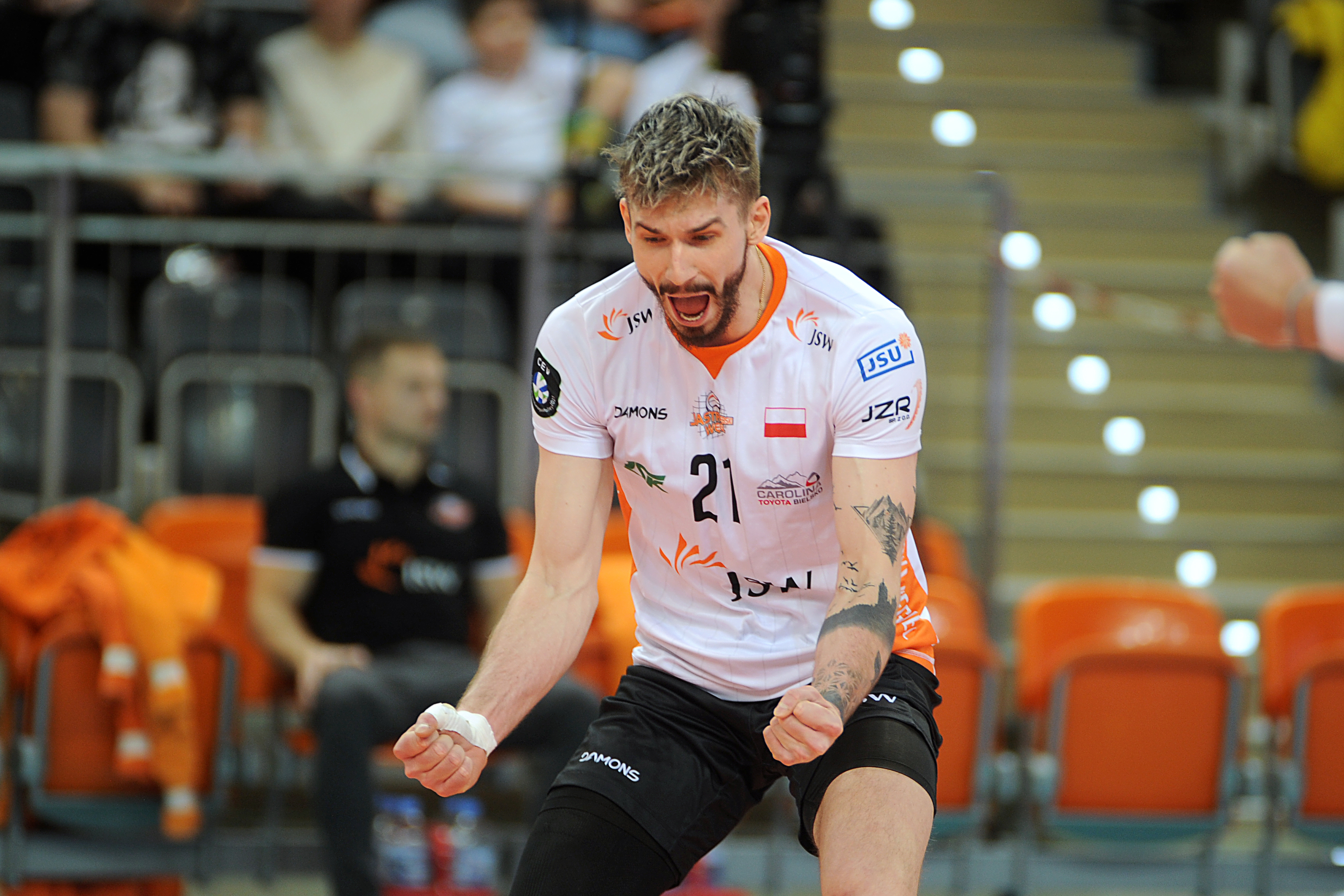 Tomasz Fornal was on fire on Wednesday night, scoring as many as 14 points
Jastrzębski Węgiel vs VfB Friedrichshafen 3-0 (25-22, 26-24, 28-26)
Although the fate of both Jastrzębski Węgiel and VfB Friedrichshafen was decided already after Leg 5, Jastrzębski was determined to confirm their supremacy. Friedrichshafen's head coach Mark Lebedew in the past was at the helm of Jastrzębski Węgiel, so he knows well many of the players. The game itself started as a fierce point-by-point race. Neither team was able to gain a bigger advantage, as both were extremely focused, showing volleyball of the finest level. The visiting side was visibly better in receptions (71% to 11%!), but Jastrzębski powered by their leaders Trevor Clevenot (6 points in the opener) and Tomasz Fornal (5 points) prevailed in the decisive part of the set.

Friedrichshafen managed to build a five-point advantage at 14-9, but with great team efforts Jastrzębski quickly made it up and the game became even tougher. Tomasz Fornal was on fire, scoring 7 points, but it was Clevenot who sealed the deal in extra time, giving the hosts 2-0 lead.

The third part started with the dominance of Jastrzębski, who jumped to 6-2, but also this was not a safe distance as Friedrichshafen didn't even think about giving up. With solid performance from Luciano Vicentin and Andre Brown, they not only erased the gap, but also took a 20-19 lead. The thrilling conclusion of the set went into extra time, but the hosts again withstand the pressure. Moustapha Mbaye was one of Jastrzębski's heroes in the decisive part, but it was Jakub Macyra who scored the match ball after a powerful spike.

Luciano Vicentin topped the scorers' chart with 16 points. Two less tallied Tomasz Fornal, who was awarded with well-deserved MVP awards. The Polish outside hitter recorded 44% of positive receptions, killed 12 of 28 attacks, served one ace and had one winning block. Another brilliant performance was delivered also by Trevor Clevenot, who completed the game with 13 points. 
"It is important how we reacted today in difficult moments. It will be liked this a lot of times during the season and we have to stay in the game and this is really good point of today. They played good game, it's physical team, putting a lot of pressure, not doing a lot of mistakes. So today it was not the best Jastrzębski, but Jastrzębski focused and being together untill the end"
Benjamin Toniutti
captain of Jastrzebski Węgiel
"We are winning in straight three sets which gives us a chances for being the firts team in the ranking of the winners of the groups. We are glad about that, because theoretically we can face easier oponent in the quarterfinal."
Tomasz Fornal
MVP and outside hitter of Jastrzębski Węgiel
"It was close and even match and it's a pity for us that we lost those ends of the sets two and three, in spite of earlier leading. In some momments we did easy mistakes and another thing is that we are missing regural clashes against such strong team like Jastrzębski Węgiel every week. The team from Jastrzębski is used to often play such a stron rivarly in PlusLiga"
Michał Superlak
opposite of VfB Friedrichshafen
"It was good quality match, both teams played well, but Jastrzębski played better, specially at the end of the sets. We had our chances, but it is not enough to play well for part of the sets against such a quality team like Jastrzębski Węgiel"
Mark Lebedew
head coach of VfB Friedrichshafen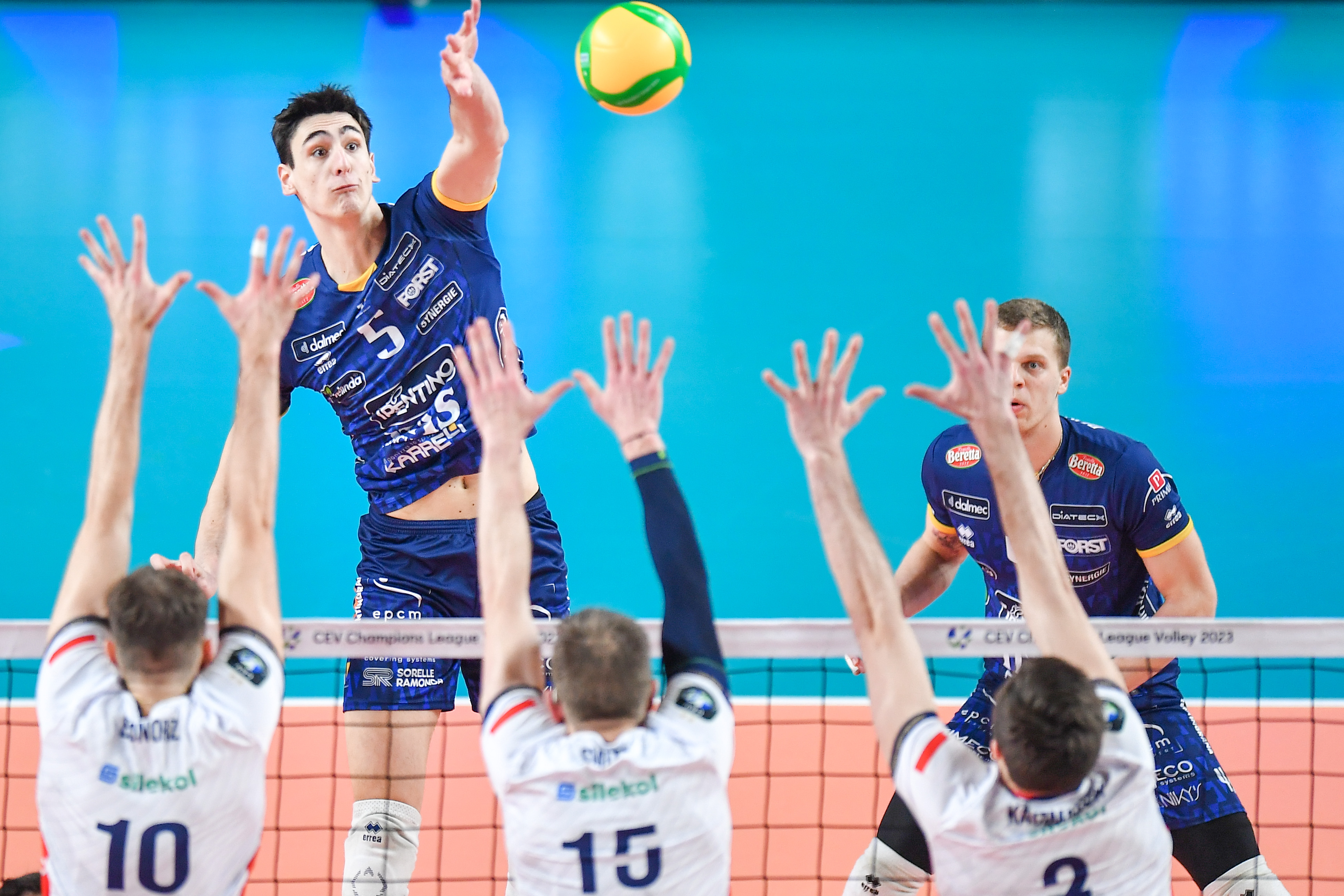 Alessandro Michieletto impressed again, helping his team to stay undefeated
Grupa Azoty ZAKSA Kędzierzyn-Koźle vs Trentino Itas 2-3 (25-17, 25-15, 18-25, 23-25, 12-15)
#CLVolleyM clash of Grupa Azoty ZAKSA Kędzierzyn-Koźle and Trentino Itas electrified fans again. The game between SuperFinalists of the last two editions grabbed a lot of attention, as the reigning champions strengthen by newly-arrived to the club Bartosz Bednorz hoped to take a revenge on the Italian, who already qualified to quarterfinals. The hosts from Kędzierzyn-Koźle enjoyed a flying start to the game, taking a 17-8 lead. Bednorz recorded a brilliant performance, contributting with 9 points (75% in attack). Zaksa outclassed Trentino in attack 17-9 and won the opener in emphatic fashion.
The hosts were not slowing down also in the second set, keeping the momentum they romped to set win by 10 points margin. Again Bartosz Bednorz played again pivotal role, keeping the high efficiency in attack (75%) and adding to it 100% of positive receptions.
Trentino returned on the court highly-motivated, opening the set 8-3. Putting a lot of pressure with their serve on Zaksa, they keep the score safe, staying in the game. Alessandro Michieletto was almost unstoppable in attack (80%), delivering his team 6 points.
The fourth part was the most competitive both teams fought hard for every ball, producing an exciting Volleyball show. Combinations of expierience of Matey Kaziyski (5 points and 83% in attack) and youth power of Michieletto (6 points, 56% in attack) helped Trentino to extend the game into tie-break.
Coming back from two sets down, Trentino had better spirit and took an 8-4 lead. Zaksa tried to fight back, but they comitted too many own mistakes (6-3) and it made a difference.
Bartosz Bednorz topped the scorers' chart with 23 points, once Alessandro Michieletto recorded 20 points (16 kills, 3 blocks, 1 ace) to his name and was named the MVP. 
The result of the game didn't change anything in the standings, as Trentino - pool winner - progressed directly to quarterfinals, once Zaksa will play in the play-offs.
"We are very happy with this win, especially since the first two sets didn't work out for us. However, I have very good and experienced players who, however, had to rise to the heights of their skills because ZAKSA played really great until the end."
Angelo Lorenzetti
head coach of Trentino Itas
"We regret that we did not follow suit in the third set. However, the Italians are an excellent team, which they showed at a distance and we made a lot of mistakes in the second part of the match and hence the loss. I also did not manage to maintain the proper level of play until the end of the match, but I believe that we will still meet Trentino ... in the final of the Champions League"
Bartosz Bednorz
outside hitter of Grupa Azoty Zaksa Kędzierzyn-Koźle