2023
MTV Stuttgart outclass La Laguna and book a ticket to #CLVolleyW quarterfinals
Author:
Martyna Szydłowska
On Wednesday night as many as eight games of the final leg in pool phase of the CEV Champions League Volley 2023 - Women were played in Europe. One of the highlights was a clash between Allianz MTV Stuttgart and Tenerife La Laguna at Scharrena Stuttgart. The hosts with their 3-0 victory stamped their direct ticket to the quarterfinals! Although we still have some games to play we already know all teams that continue their journey in #CLVolleyW. All European Cups matches held a minute of silence in solidarity with the people of Türkiye in these very difficult times.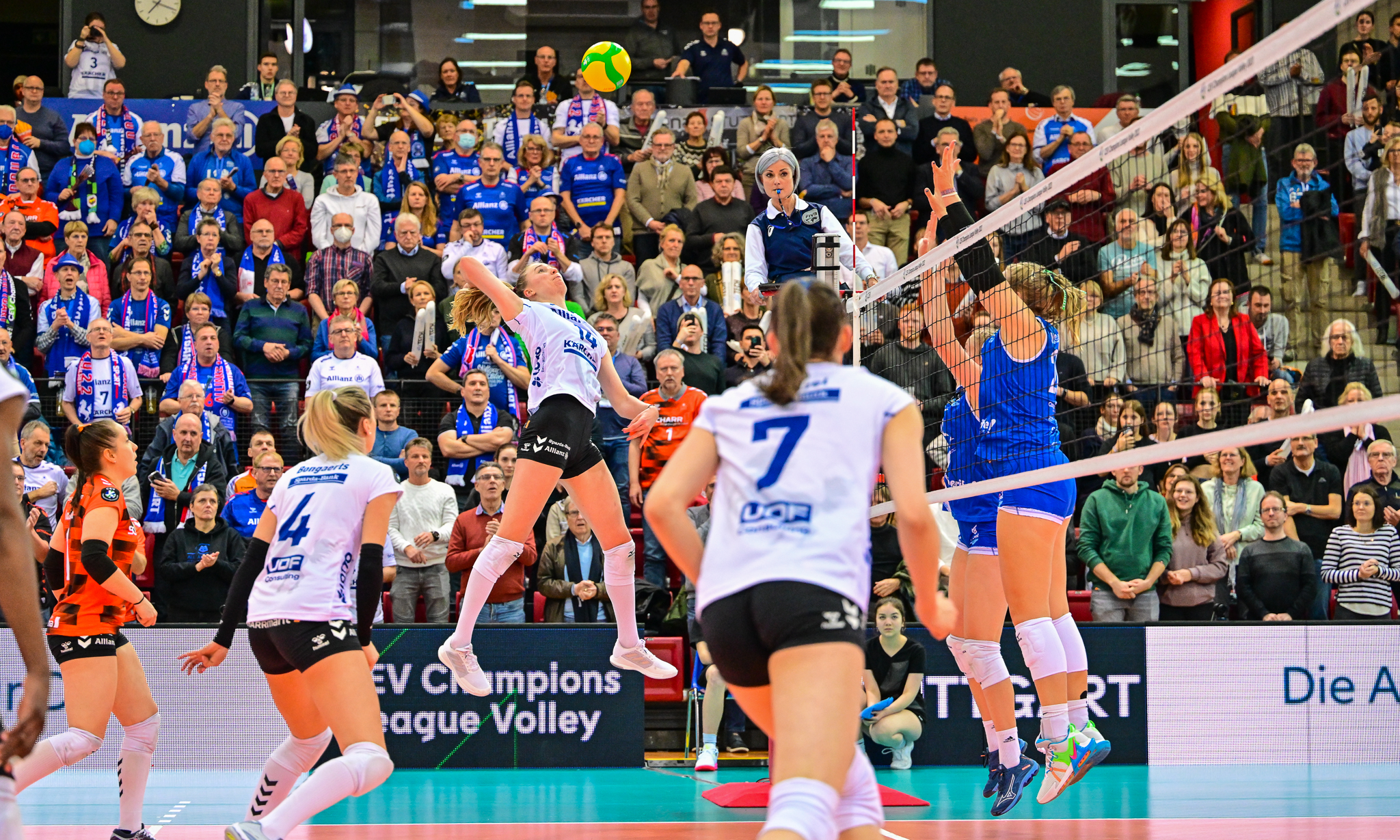 Allianz MTV Stuttgart vs Tenerife La Laguna 3-0 (25-8, 25-16, 25-15)
There was a lot at stake for Allianz MTV Stuttgart in the game against Tenerife La Laguna. A victory was worth the direct ticket to quarterfinals, so the hosts from the beginning of the match played fully focused on their goal. The opening set was a complete domination of Allianz MTV Stuttgart, who took a 7-2 lead and improved it further, closing the set 25-8 (!). The team under the guidance of head coach Tore Aleksandersen dominated in all components, showing no mercy to their rivals. Laura Kunzler was the best scorer with 8 points to her name.

The team from Stuttgart kept the momentum, starting the second part in even more convincing fashion (9-2). The hosts sparked by their home crowd were not slowing down. Britt Bongaerts not only led a well-balanced game, but also was very successful from service line - 2 aces. Once Marie Schoelzel made a wall above the net, talling 5 winning blocks. Although players from Tenerife La Laguna tried their best and managed to reduce the gap to five points at 16-11, the hosts left no illusion, closing this part 25-16.

The third set had an unexpected opening. Having their back against the wall, La Laguna opened it with a 4-0 lead. Coach Tore Aleksandersen quickly called time-out and the hosts returned on the right track. They not only tied at 8-8, but took a lead, running away with the score to finally close the match 25-15 and secure a pool win and a ticket to quarterfinals.

Eline Timmerman, Simone Lee and Laura Kunzel shared the top scorers honour with 10 points apiece, but it was setter Britt Bongaerts to be named the MVP.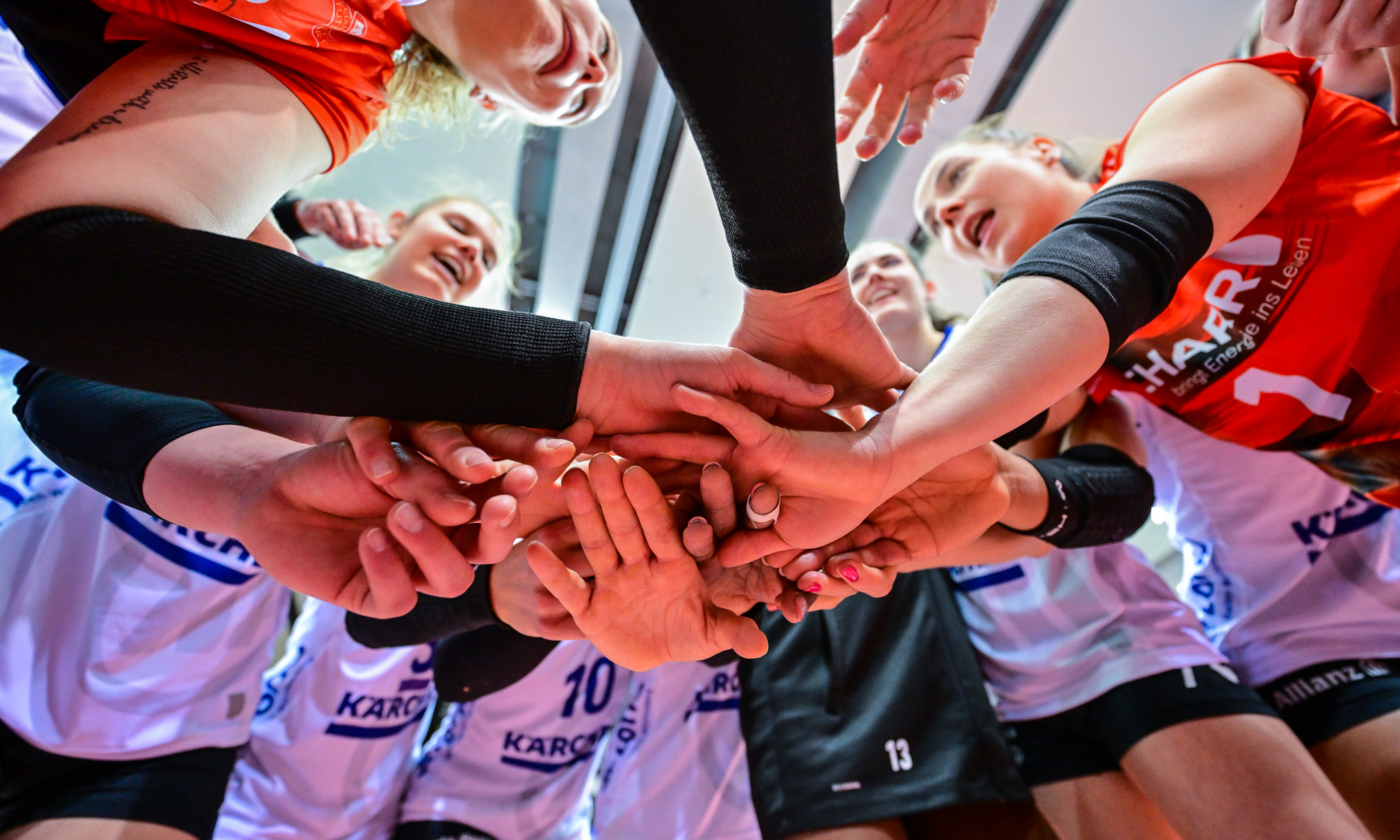 "We are very happy that we have reached the quarterfinals directly, without having to play in the Play-Offs. We would have never thought that this would be possible in this Champions League campaign. We are so happy and now we move on to the quarterfinals."
Luisa Keller
player of Allianz MTV Stuttgart
"It was a very nice experience to play here in Stuttgart. We could have done better, but it was important that also our young players could get time on the pitch."
Laura Rodwald
player of Tenerife La Laguna
Following the results of the games in all pools we already know four pool winners - A. Carraro Imoco Conegliano, Vero Volley Milano, Allianz MTV Stuttgart and Eczacibasi Dynavit Istanbul. Although it's already confirmed that from Pool C both VakifBank and Igor Gorgonzola Novara will continue their journey, the game between these teams will determine the winner of this group who will grab the last direct ticket to quarterfinal. The other team will join Developres Rzeszów, Volero Le Cannet, Fenerbahce Opet Istanbul, ŁKS Commercecon Łódź and Grupa Azoty Chemik Police.