2023
SC Potsdam produce the biggest #CLVolleyW sensation beating VakifBank. ŁKS to lead in Pool D
The 4th leg of the Round 4 CEV Champions League Volley - Women concluded on Thursday night with two thrilling encounters. The reigning #CLVolleyW champions Vakifbank Istanbul take on SC Potsdam at Vakifbank Spor Sarayi in Istanbul. And this game produced the biggest surprise in this edition of the Champions League so far! The German club came back from two sets down to beat the Turkish powerhouse. ŁKS Commercecon Łódź and Tenerife La Laguna locked horns in the second match of the day. The Polish club who defeated Fenerbahce last week, earned an express victory over the Spanish rivals to take a leadership in Pool D.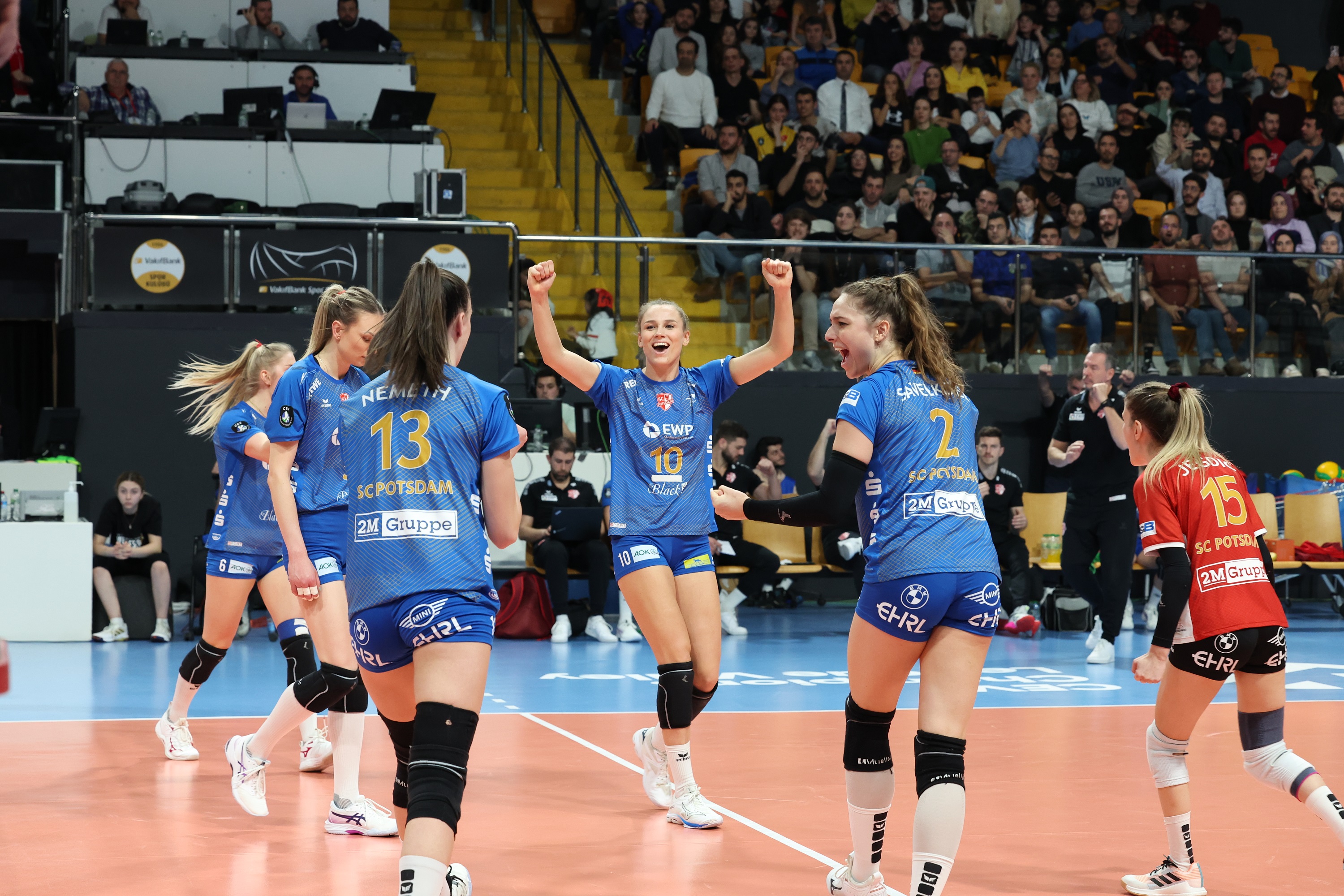 VakifBank Istanbul vs SC Potsdam 2-3 (25-19, 25-19, 23-25, 20-25, 10-15)
SC Potsdam started the game pretty well, keeping the pace with the defending champions. However, in the middle of the opener VakifBank speeded things up taking a few point lead to win the set in emphatic fashion.
The hosts kept the momentum, opening the second set 8-2 with Kara Bajema on the service line. Once the guests struggled a lot not only with receptions, but also couldn't score, so the distance became even bigger (11-4). Potsdam tried to keep playing bravely, delivering several impressive plays, but VakifBank built the wall over the net (7 killing blocks) sending powerful hits, leaving no illusions to Potsdam.
Once everyone expected that it would be business as usual for VakifBank, SC Potsdam amazed with their attitude and game. Having nothing to lose they started to play even bolder. The guests led by Anett Nemeth and Fleur Savelkoel (6 points apiece) took an early 7-4 lead and improved it further up to 8 points at 16-8! Furious VakifBank chased the score and shortened the distance to 22-20, but it came to nothing as Potsdam won the set after third setball 25-23.
The fourth set had the most equal beginning, but from 7-7 Potsdam scored five consecutive points to take a 13-7 lead with Anastasia Cekulaev on the service line. VakifBank, feeling the pressure from the rivals were far from playing flawlessly and even if they managed to short the gap to two points (13-15), Potsdam quickly responded taking 21-15 lead, even if the end was tense, but the team around coach Guilermo Hernandez prevailed.
Tie-break had a competitive beginning, but a breakpoint came again at 7-7! Potsdam scored two in a row, this recalled memories from the previous set. VakifBank again started to make mistakes. Coach Guidetti called time out, but it didn't help as Potsdam took a 13-10 lead and closed the game at 15-10.
Paola Egonu topped the scorers chart with 23 points, but SC Potsdam led a way more balanced game. Fleur Savelkoel and Anett Nemeth tallied 17 points apiece, but it was Hester Jasper to grab MVP award with 16 points to her name. The Dutch outside hitter served two aces, recorded 52% in attack and 43% of positive receptions.
It's the second win for SC Potsdam in Pool C and the first defeat for VakifBank, who keeps the lead in the standings.
This match was really tough. VakıfBank is the best team in the world. It was not easy for us to play because they are so tall. We changed the rotation and this gave us a little freedom. We made some adjustments and played amazingly. I always say this about this team, It doesn't matter the score we just keep fighting. Congratulations to my players.
Guillermo Naranjo Hernández
head coach of SC Potsdam
It is incredible. I don't have words. We didn't expect this. VakıfBank is the best team in the world for us. I don't know what to say. I am proud of my teammates. We did this all together and it is amazing.
Hester Jasper
MVP and player of SC Potsdam
ŁKS Commercecon Łódź vs Tenerife La Laguna 3-0 (25-16, 25-14, 25-20)
ŁKS Commercecon Łódź started the game on a high note. The hosts led by Aleksandra Gryka (6 points) dominated on the court, taking a ten-point advantage at 15-5. But it didn't discourage Tenerife La Laguna, who fought back and shortened the distance at 18-15. It was a warning call for the team around Alessandro Chiappini, ŁKS quickly closed ranks and marched for set win at 25-16.

The Polish club kept the momentum, starting the 2nd set with a 12-5 lead and improving it further. Purely enjoying the game, ŁKS outclassed their rival in all components, closing the set 25-14.

Having their backs against the wall, La Laguna took an early 6-2 lead and enlarged the gap to 13-9. Margaret Wolowicz was Tenerife's strongest weapon as she contributed with 7 points. But then, ŁKS reborn - working perfectly with block - they scored four consecutive points to tie at 13-13. After a short period of point-by-point game, the hosts ran away with the score in the decisive part and earned a straight-set victory.

Aleksandra Gryka topped the scorers' chart with 15 points, including 8 kills, 5 blocks and 2 aces. But it was Roberta Ratzke who was honoured with MVP award.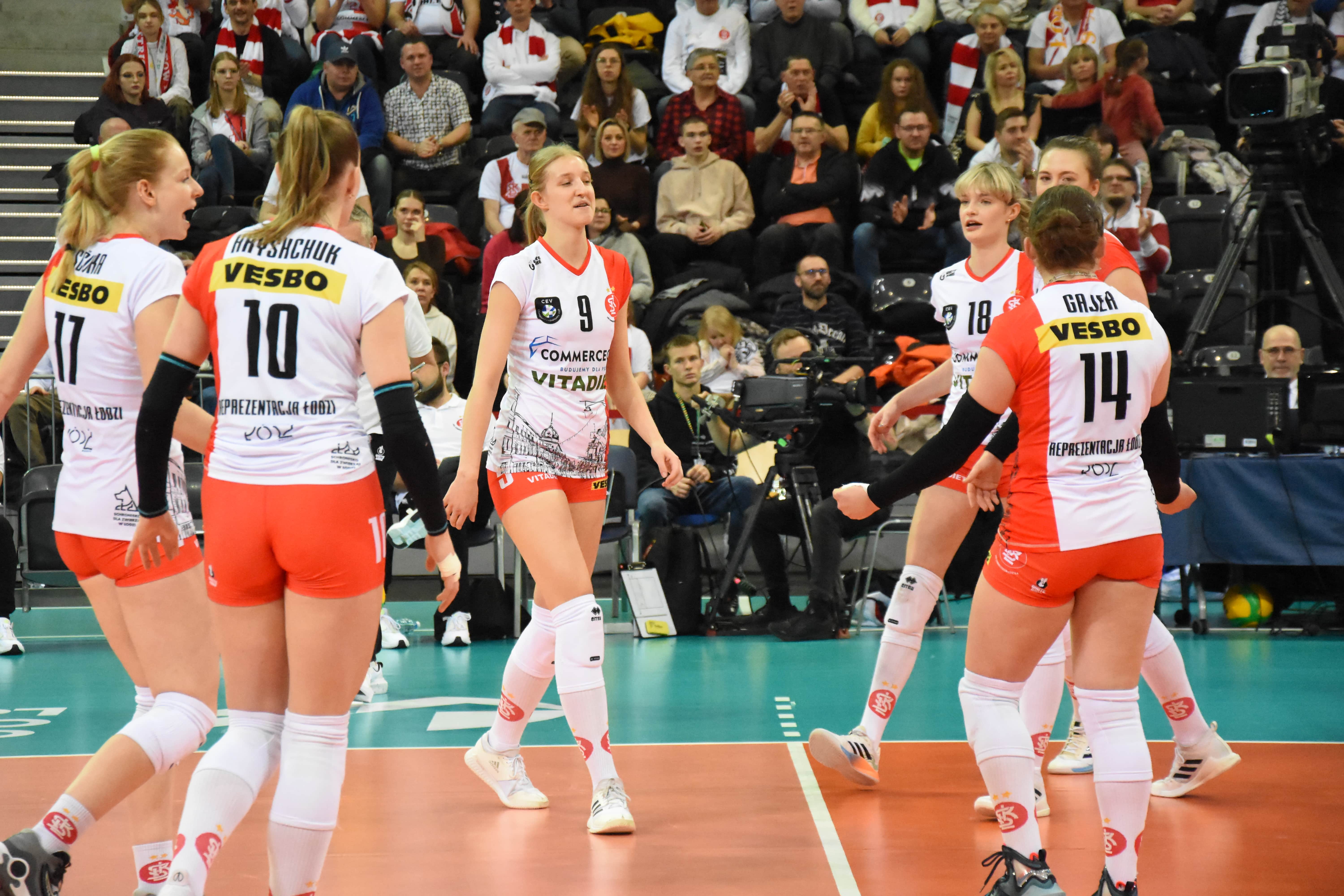 First and second set were fully under our control, then we lost focus a little. We missed a few balls and made some errors and rivals used this, but all in all we were prepared well. Even if we had some problems on the court in the past, we could manage this, so we were calm and did our job
Angelika Gajer
player of ŁKS Commercecon Łódź
It was our goal to win the match and earn three points and we did it. In the third set we lost some concentration, but we came back to the game well and finished the match.
Kinga Drabek
player of ŁKS Commercecon Łódź