2023
The Numbers Behind the CEV Champions League Volley SuperFinals 2023
The CEV Champions League Volley SuperFinals held in Turin proved to be an extraordinary event that showcased the immense popularity and digital prowess of the sport. With a large number of spectators on-site, extensive TV coverage, a diverse fanbase, and impressive digital engagement, the SuperFinals solidified its status as the premier club volleyball tournament.
Let's dive into the accomplishments that marked this exceptional event.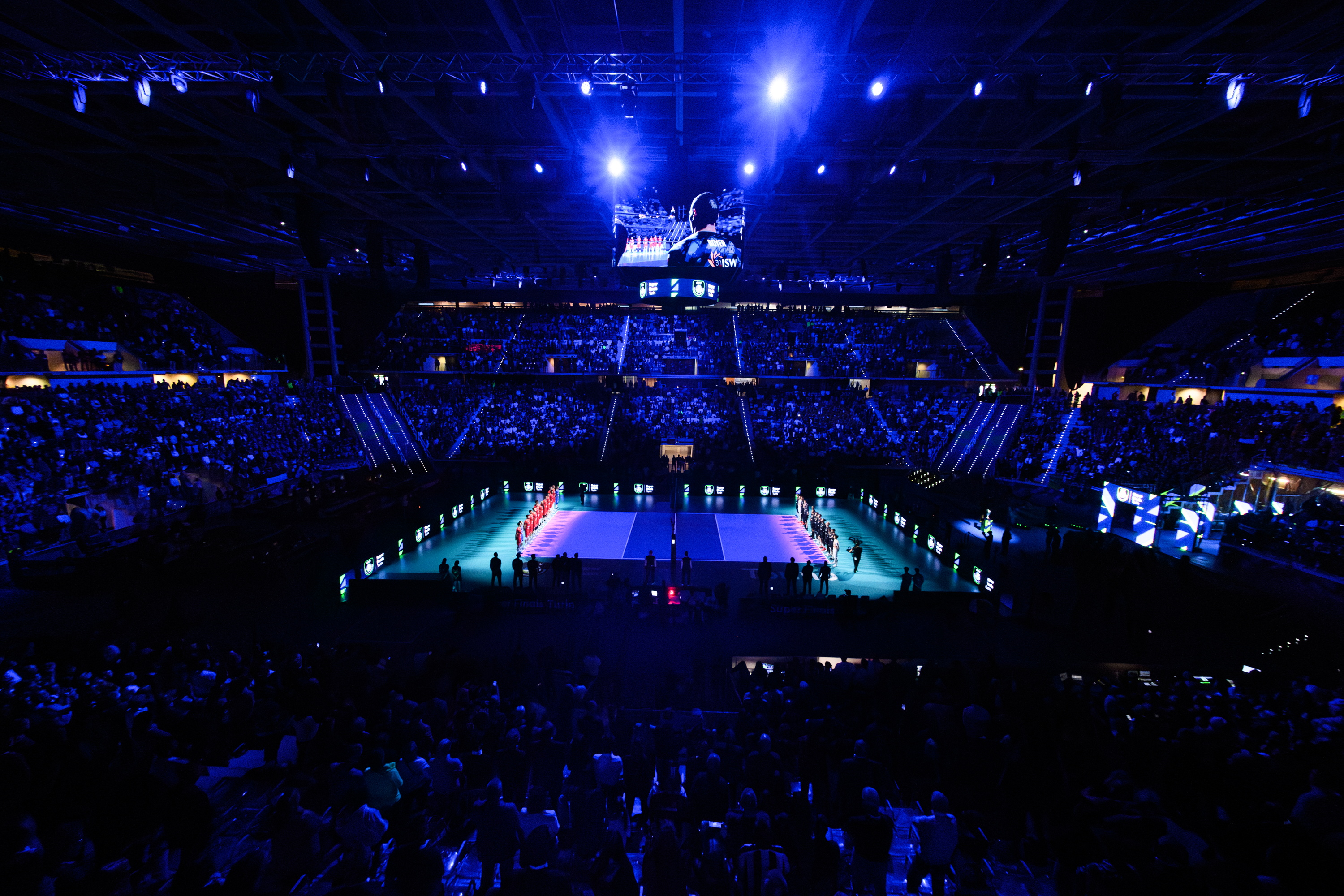 The enthusiasm surrounding the SuperFinals was palpable, as a crowd of 10,477 spectators flocked to Turin to witness the thrilling battles on the volleyball court. The electrifying atmosphere created by the passionate fans added an extra dimension to the event, generating an unforgettable experience for both players and spectators alike.
The CEV Champions League Volley SuperFinals captivated audiences worldwide, with a remarkable coverage spanned across 75 countries, complimented worldwide by the streams on CEV's own platform, EuroVolley.TV, thus reaching 300M individuals.
The tournament was shared through 28 broadcasters , with the help of 50 production staff, 5 production trucks and a set of 18 cameras to follow all the action on the court. This extensive coverage not only expanded the global reach of the SuperFinals but also increased the visibility and popularity of the sport in new markets.
One of the most remarkable aspects of the SuperFinals was the diverse fanbase it attracted. Fans from an impressive 47 nationalities came together to celebrate their love for volleyball, highlighting the sport's ability to unite people from all corners of the globe. This vibrant mix of cultures and backgrounds showcased the international appeal of the SuperFinals and underscored volleyball's ability to transcend borders and create a shared passion among fans worldwide.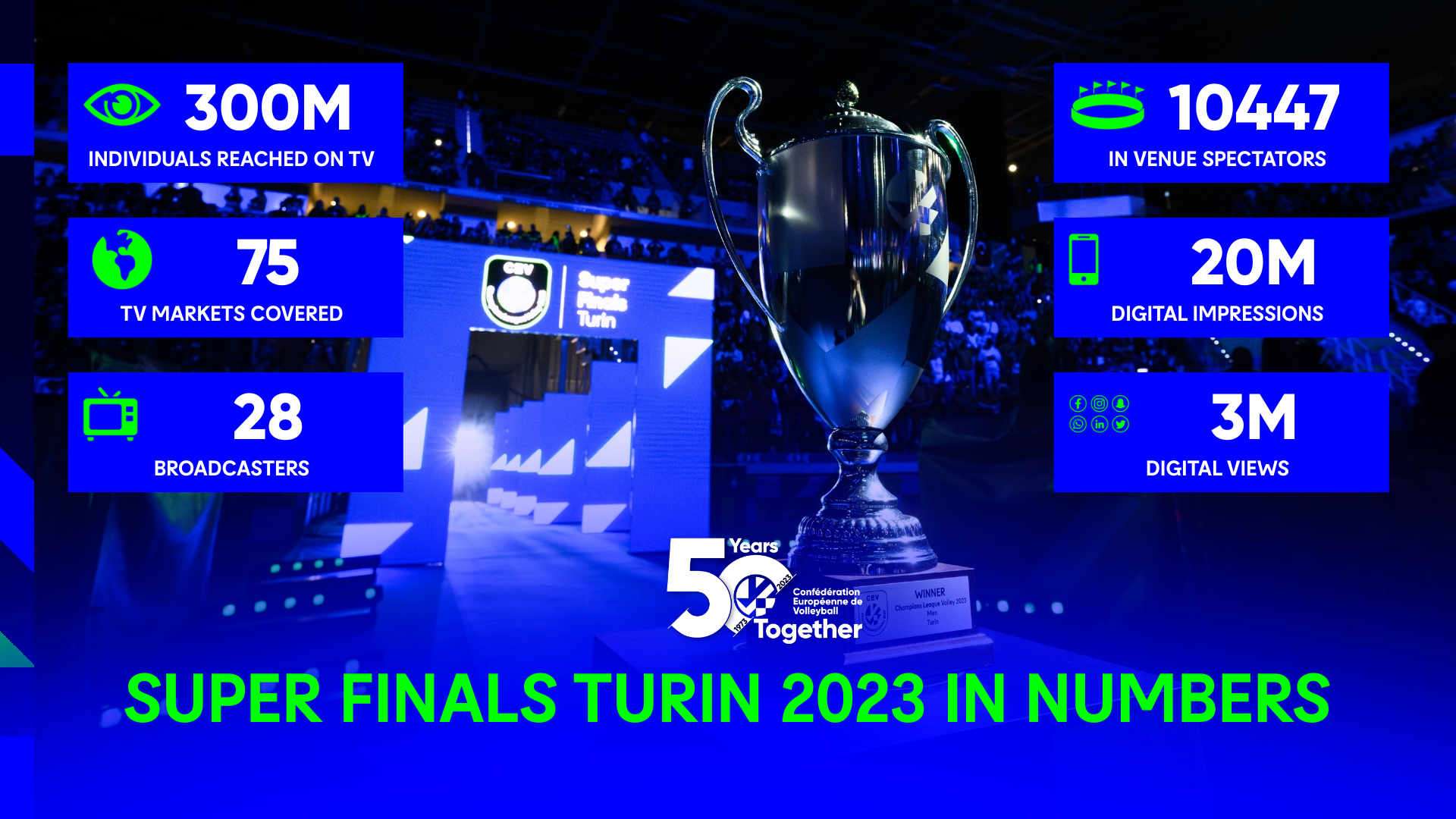 The digital accomplishments of the CEV Champions League Volley SuperFinals were a considerable step up from previous years.The event generated 20 million digital impressions across the few days leading up to the event and on the day of, sparking conversations and creating a buzz across various social media platforms and online communities.
The extensive digital reach amplified the tournament's impact, fostering engagement and interaction among fans, players, and volleyball enthusiasts through more than just the matches themselves. The European Volleyball Show went live from the teams' hotel as well as from the arena, with unprecedented access for a more immersive experience than ever before.
Moreover, video content from the SuperFinals recorded an impressive 3 million digital views, with fans eagerly consuming and sharing highlights, match recaps, and behind-the-scenes content. This significant viewership not only demonstrated the widespread interest in the tournament but also cemented the SuperFinals' position as a premier sporting event in the digital space.
The CEV Champions League Volley SuperFinals 2023 in Turin proved to be an unforgettable spectacle that showcased the ever growing popularity and digital accomplishments of volleyball. The event's remarkable success in both physical and digital realms highlights the power of volleyball to captivate audiences and unite fans worldwide.