2023
Yant Herrera leads Lube to second #CLVolleyM win in Pool C
The match between Tours VB and Cucine Lube Civitanova was one of the highlights of action-packed Wednesday in Leg 2 of the CEV Champions League Volley 2023 - Men Pool C. The game itself was a thrilling Volleyball show, but the Italian powerhouse proved better in the decisive moment to record their second consecutive win in this campaign.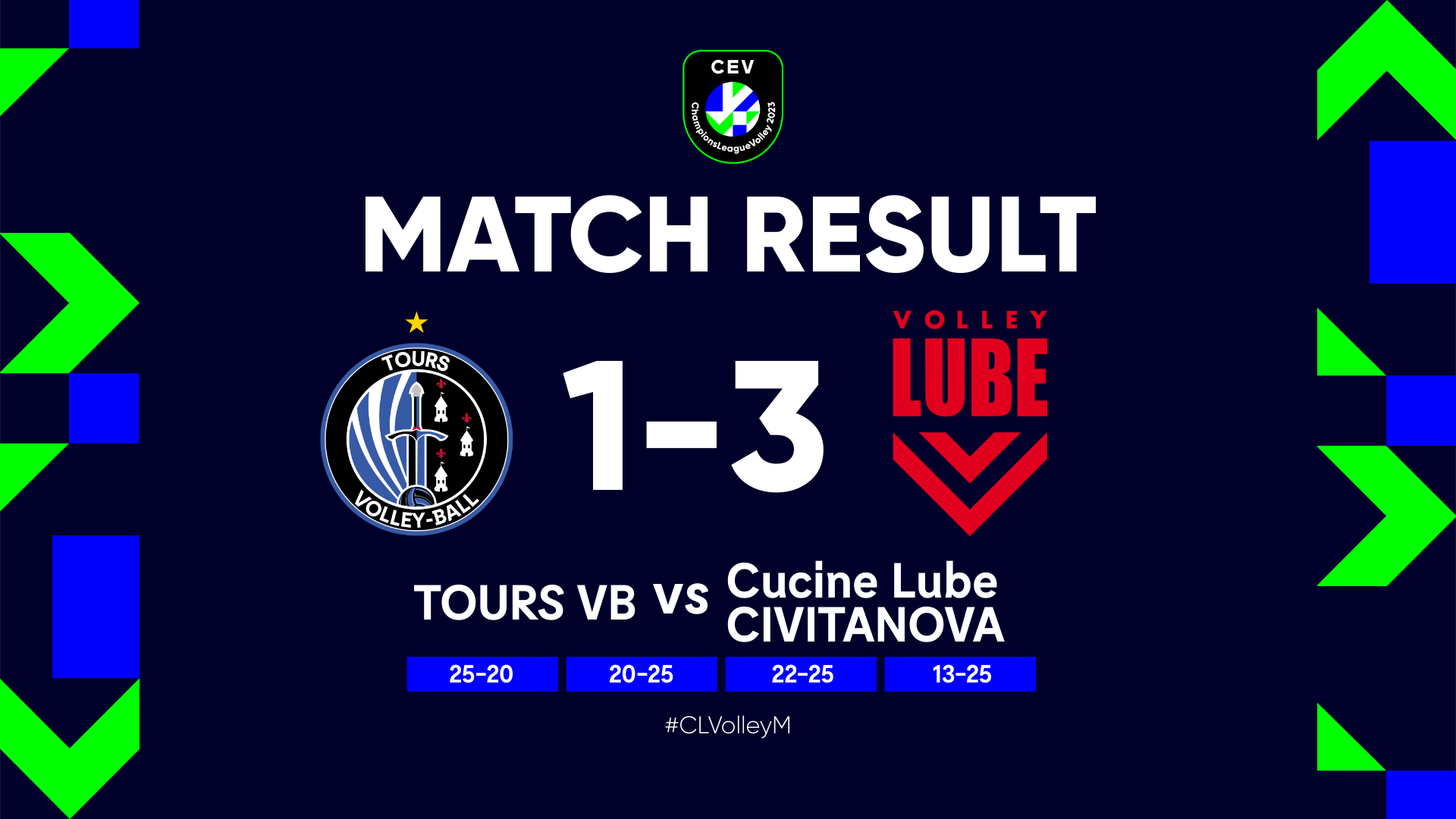 Both teams recorded opening victories last week and were extremely eager to continue their winning streak. However, it's worth mentioning that Lube needed as many as five sets to beat Benfica in the opening leg. The hosts from Tours VB opened the match highly-focused and quickly took 8-4 lead and improved it further. The French side dominated on attack with Aboubacar Drame Neto, being the strongest weapon in Marcelo Fronckowiak's squad (6 points in the opener and 67% of success in attack). Lube couldn't find a way to get back in the game, thus Tours closed the opener at 25-20.
The next set started on a point-by-point basis and it continued this way until 15-15, when Ivan Zaytsev went to the serving line and made a difference. His team jumped to 20-15 and kept the score safe until the end of the set. Marlon Yant Herrera was a hero of Lube after recording 7 points and 75% of success in attack.
The match continued as a hard battle, but after winning the previous set, Lube regained their rhythm, Luciano De Cecco led a well-balanced game as he could equally count on Zaytsev, Nikolov, Chinenyeze and Yant (all tallied four points apiece). And even the stunning performance of Drame Neto - 9 points to his name - was overshadowed by Lube's teamwork.
The team around Gianlorenzo Blengini kept the momentum and enjoyed a flying start to the fourth set, taking a 8-2 lead and improving it further, reaching more than ten points in the decisive part of the set. Lube dominated in all components and quickly closed the game, taking the last part 25-13.
Tours' opposite Aboubacar Drame Neto topped the scorers' chart with 24 points. Once leader of Lube - Marlon Yant Herrera had 19 points under his belt (15 kills, 2 aces, 2 blocks and 56% of success in attack) and was named the MVP of the match.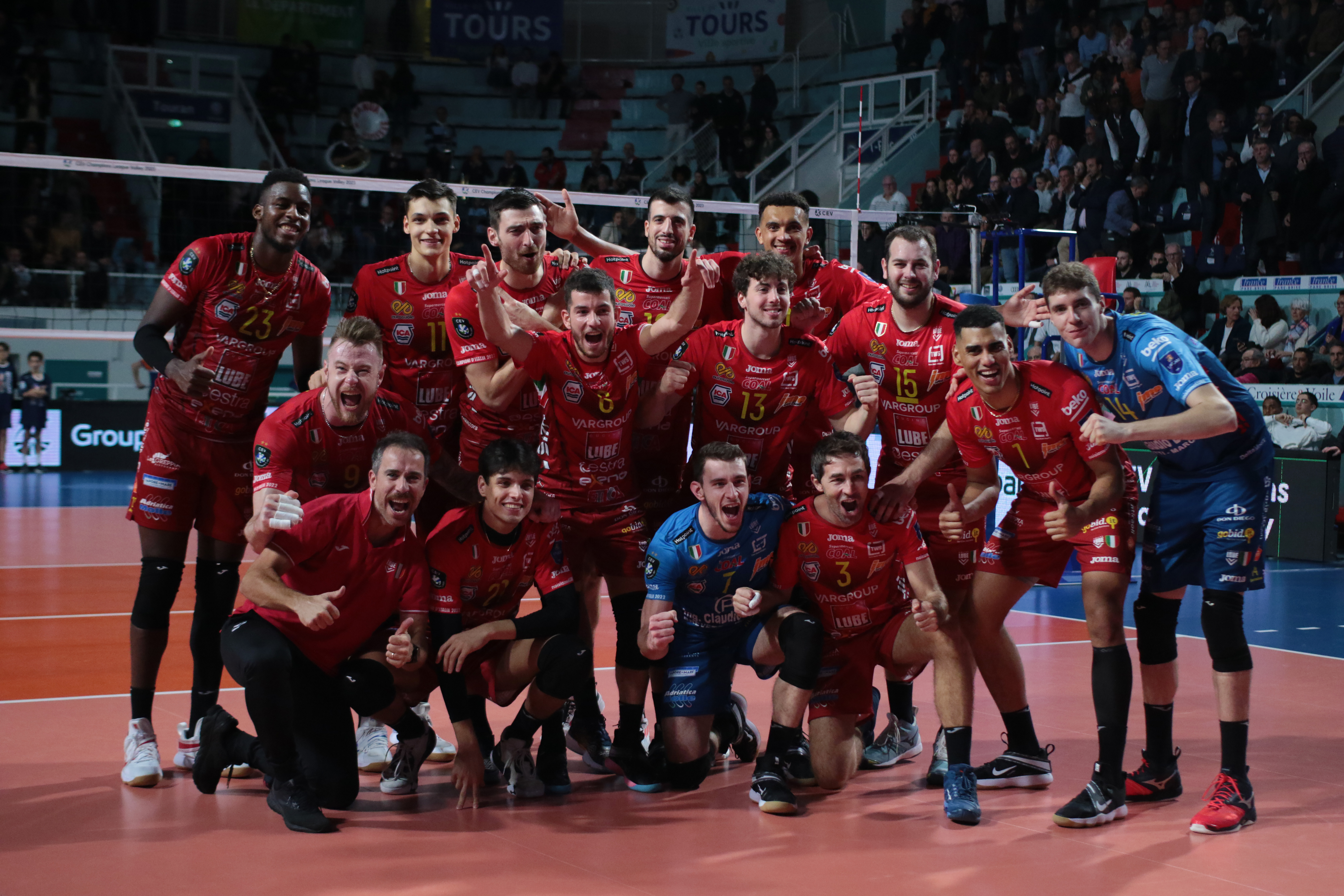 "I am happy to be back in Tours. We were a bit shy at the beginning but in the second set we relaxed and we were able to put them in difficulty in the reception."
Barthelemy CHINENYEZE
middle blocker of Lube Civitanova
"We are happy to win. For us it is difficult because we loose in national competition. It is a new team with new players. But we are happy because this win in another level is important for us."
Gianlorenzo BLENGINI
head coach of Lube Civitanova
"Congratulations to the Lube team. We made a lot of mistakes tonight, and against this type of team it is difficult to win in these conditions. But congratulations to Lube who raised their game to win the match."
Aboubacar DRAME NETO
opposite of Tours VB
"t was a very strong start for us. We are able to play in a very high level, but in the second set we loose control, we loose confidence and after itw as to late."
Michael PARKINSON
middle blocker of Tours VB