A. Carraro Imoco CONEGLIANO
- A.Carraro Imoco Volley changed many players from last season: the most important change was the arrival in Conegliano of Sweden's Isabelle Haak, "the queen of the north," who took the place of Italian star Paola Egonu who went to Vakifbank Istanbul of all places.
- After five and six seasons, farewell also to Miriam Sylla and Raphaela Folie who went to Vero Volley Milano. Conegliano saw the return of experienced U.S. player Kelsey Robinson Cook after four seasons, and young Italian centers Marina Lubian and Federica Squarcini arrived, in addition to the two tough wing Alexa Gray, canadian, and italian player of national team Alessia Gennari.
- In this season A.Carraro Imoco Volley won 11 games of 12 in italian championship, and won the Italian Supercup against Igor Novara two weeks ago.in the last few years A.Carraro Imoco Conegliano has always been in the final stage of the Champions League: in 2017 silver medal, 2018 bronze, 2019 silver, 2020 was not played because of the pandemic and the Italian panthers were qualified to the semifinals, 2021 gold medal and in 2022 silver medal.
- There is already one precedent between italian panthers and Vasas, in the 2019 Champions with Conegliano's double win on the road for 3-0 and a hard-fought 3-2 win at Palaverde.
- After the first Champions League match, A.Carraro Imoco Volleyball will fly to Turkey next week to represent Italy as the winner of the last Italian championship, at the World Club Championship in Antalya (Turkey).
"We come from a start of the season where we played 13 games in a little more than 40 days, it was not easy to manage the team in this period. Despite some problems with injuries and flu-like illnesses, we managed to win the Super Cup against Igor Novara. We are very much looking forward to the Champions League and we want to start the competition well on Wednesday against Budapest, a match that will also be important for us because it is the last one before we leave for the Club World Champ."
Daniele Santarelli
Head Coach A. Carraro Imoco CONEGLIANO
Officials

First Referee

Paul Catalin SZABO-ALEXI

ROU

How To Attend

Via Marconi, 10/C, VILLORBA - TREVISO, 31020 Capacity: 5154
Team
Team Profile

A. Carraro Imoco CONEGLIANO

Address
Longhena, 1 San Vendemiano
Contacts
Team Schedule
Previous Games
Team
Staff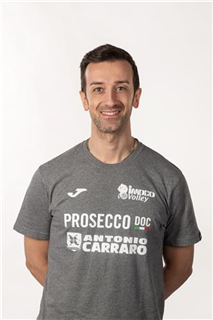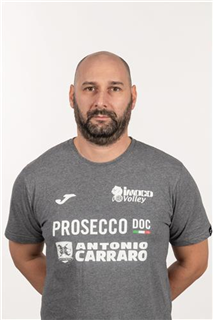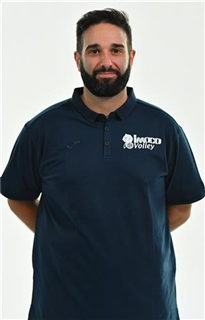 Gallery
Disclaimer
Photos featured on the CEV Photo Galleries are downloadable copyright free for media purposes only and only if CEV is credited as the source material. They are protected by copyright for all other commercial purposes. Those wishing to use CEV Photo Gallery photos for other commercial purposes should contact press@cev.eu
Match Report
A. Carraro Imoco CONEGLIANO v Vasas Óbuda BUDAPEST

Article
- The 2022-2023 season marks the 12th year Robin De Kruijf partakes in the CEV Champions League;
- Bannister is the best scorer for Obuda budapest with 12 points

- Eleonora Furlan and the libero Pericati and the setter Carraro debuts in Champions League with this game, Furlan scoring 2 points

- This is the first time in this season Conegliano can count on its entire team, due to various injuries to varsity team players;

- The match vs Obuda Budapest marks the last official test for Conegliano before debuting in the FIVB Club World Championship next week in Antalya;

- Robin De Kruijf is named MVP of the match, with 11 points and 100% in attack (8/8)
Read more
"It was a good test after the last heavy match in the Championship. We used all the players that we had and we had a good game to get us started before the world championship".
Daniele Santarelli
Head Coach A. Carraro Imoco CONEGLIANO
"We did a great job, the team didn't really skip a beat and this was really important to us going into Club World's Championship. I'm excited to keep playing and the next games".
Alexa Gray
Outside Hitter A. Carraro Imoco CONEGLIANO
"We are not used to play to this level, it was really difficult for us to score as they play amazing block-defense. It's a great experience for us to play against a much better opponent and it forces us to find different solutions".
Giannis Athanasopoulos
Head Coach Vasas Óbuda BUDAPEST
"it's not easy to play against the best team in the world, but i think we did a great job but let's see what we can do at home. I'm happy that we are playing in Champions and against Conegliano, we have a lot of young players and it's a really good experience".
Aysha Abdulazimova
Outside Hitter Vasas Óbuda BUDAPEST
The match in numbers
Points
The combined total number of points scored by both teams throughout the entire match.
Duration
The total length of the match, from the first serve through until the last point has ended.
Spectators
Total number of people in attendance at the venue – taken at the end of the second set.
Match Spikes
The combined total number of successful spikes achieved by both teams throughout the entire match.
Reception Level
An average of the two team service reception percentages from the complete match.
Net Domination
The number of successful point winning blocks of A. Carraro Imoco CONEGLIANO compared to Vasas Óbuda BUDAPEST.
Ace Count
A. Carraro Imoco CONEGLIANO number of service aces compared to Vasas Óbuda BUDAPEST
Error Difference
Errors leading to points of A. Carraro Imoco CONEGLIANO, next to those from Vasas Óbuda BUDAPEST